The Works profit seen at lower end of market views as sales growth softens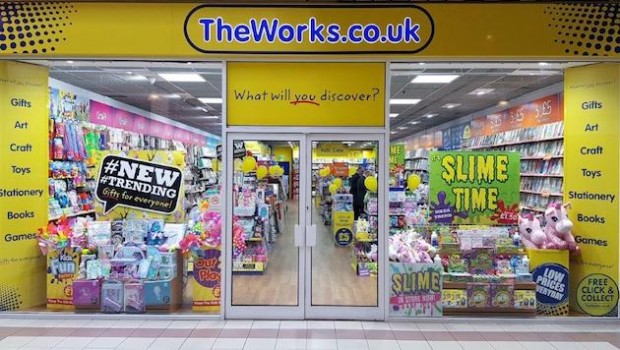 Arts and crafts retailer The Works saw its shares drop on Thursday after it said annual adjusted pre-tax profit was set to be at the lower end of current market expectations as consumer sentiment takes a hit from political uncertainty.
In an update for the 52 weeks to 28 April 2019, the company said revenue rose 13.2% year-on-year, with overall like-for-like sales up 3% thanks to growth in stores and online, and a "particularly pleasing" performance from its Click & Collect service.
However, the group also said that following a record Christmas performance, LFL sales growth has softened since the turn of the year amid economic and political uncertainty, hence its belief that pre-tax profit will be at the lower end of market views.
During the year, The Works opened 50 new stores, taking the total number of stores trading to 497. It said returns on new stores in the period have been particularly strong, reflecting continued discipline on site selection, supported by an increasingly favourable UK retail property market.
The company also highlighted a "strong" pipeline of openings moving into the new financial year as it prepares to open its 500th store on Friday in Winchester. It added that management remains confident of the potential to expand the store portfolio to up to 1,000 stores in the UK and Ireland.
Chief executive officer Kevin Keaney said: "Overall, we have had a successful year as we continued to expand our store footprint and online proposition and introduce new customers to The Works. We achieved another record Christmas, solid like-for-like sales growth and further cash margin improvement in the year. Our differentiated proposition, offering a wide range of new products at outstanding value and delivered by our highly engaged colleagues, continues to be well received by our customers.
"Notwithstanding the more uncertain backdrop since January, the business has multiple growth levers and we remain confident in the future prospects for The Works."
At 1300 BST, the shares were down 17% at 98.20p.