AO World slows less than feared in 'solid' third-quarter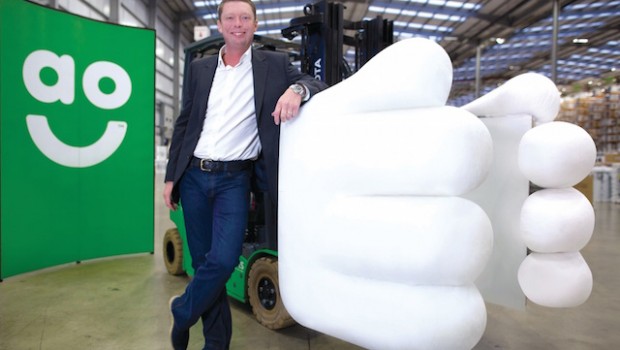 AO World said it is on track to meet expectations after revenue grew 8.2% in the last three months of the year, driven by European growth and seasonal discounts.
However, online white goods retailer's third-quarter revenue growth slowed to 4.4% in the UK, though customers "responded positively" to Black Friday offers that were extended beyond traditional discounting periods and with improved margins. This was down from the 5.7% in the first half of last year and 11.4% in the third quarter the previous year.
Across its European business, revenues were up 31.3% on a constant currency basis, outstripping the prior quarter. This was slightly slower than 35% in the first half but and well down on the 58.4% a year ago, but an acceleration from the implied 24% in the second quarter of the current fiscal year.
Chief executive Steve Caunce said: "Against a challenging backdrop, Q3 represents a solid performance across the AO Group. We are on track with our plans as we continue to provide a great proposition for our customers."
The FTSE Smallcap company also completed the acquisition of Mobile Phones Direct on 17 December, in line with its strategy of broadening the categories offered for sale in its UK business.
The newly acquired business has been excluded from the figures announced today by AO World.
"I am particularly proud of the hard work of the teams in the UK and Europe in this critical trading period which saw a record numbers of customers choose AO for their Black Friday and seasonal electricals purchases," said Caunce.
However, analysts did not all share Caunce's rosy view, with some still questioning the risk behind AO World's European expansion.
Neil Wilson, chief market analyst at Markets.com, said: "European revenue growth of 31.3% is extra jam and points to progress on the expansion. AO World is buying market share in Europe at the expense of group profits, but at least it seems it is growing the top line well. Problems remains that this is a highly commoditised sector and growing margins looks like a herculean task."
Broker Peel Hunt, following a more detailed review of the interims and the closure of the Mobile Phones acquisition, cut its EBITDA forecast for the current financial year from £5m to breakeven, and then for 2020 from £19m to £10m.
AO World's shares were up 2.58% at 127.40p at 1127 GMT.