Sector movers: Most industries see red during session of misery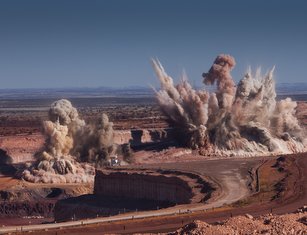 It was a miserable day on the London bourse, with only two sectors marginally in the black - electronics makers, and personal goods firms.
Leading the miners lower was Anglo American, which fell as it said that sales of rough diamonds in the first cycle of 2018 at De Beers came to $665m versus $455m in the tenth cycle of 2017 and $729m in the first cycle of last year.
Oil companies and the firms that service them were also falling, after BP announced that it would not alter its spending plans despite rising global oil prices, and was beginning preparations to approve projects for 2018 aimed at making money with prices below $40 a barrel.
Although BP is in an enviable position in terms of revenue following the 50% jump in oil prices since the halfway point of 2017 to around $70 a barrel, Bernard Looney, the head of the company's oil and gas division, said the oil giant would maintain the discipline previously displayed through deep cost cuts and more efficient work patterns.
Prices for the thick black stuff were down in afternoon trading, with Brent crude last off 1.15% at $68.67 and West Texas Intermediate falling 1.85% at $64.37.
Challenger bank CYBG was the big loser among its peers, despite saying it was on track to meet forecasts for annual profit after the bank traded in line with expectations in the first quarter of its financial year.
The lender, which trades under the Clydesdale and Yorkshire bank brands, said it had solid growth in the three months to the end of December.
Mortgage lending rose at an annualised rate of 7.4% to £23.9bn and loans to small businesses grew 1.4% with £567m of new lending in the quarter.
Top performing sectors so far today
Electronic & Electrical Equipment 6,650.32 +0.69%
Personal Goods 34,676.20 +0.07%
Bottom performing sectors so far today
Industrial Metals & Mining 4,122.18 -3.31%
Oil Equipment, Services & Distribution 13,061.81 -2.00%
Banks 4,644.57 -1.73%
Mining 19,159.03 -1.73%
Oil & Gas Producers 8,960.11 -1.65%