UK's Hunt to make emergency fiscal statement as Truss hangs by a thread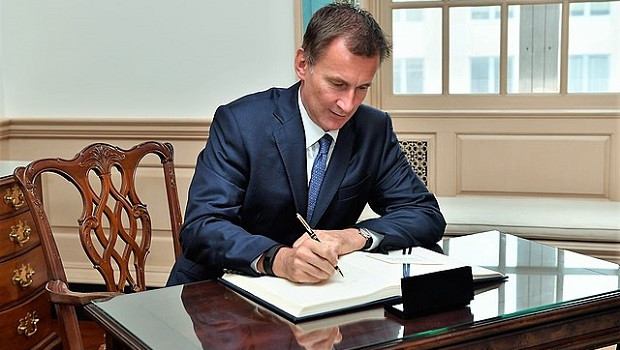 Newly-installed UK Finance Minister Jeremy Hunt will deliver parts of his fiscal plan later today, two weeks ahead of schedule, Treasury officials said on Monday.
Hunt, the fourth finance minister in four months, is fast-tracking aspects of the new plan, which will be released in full on 31 October, in a bid to reassure markets after his predecessor's package of measures caused turmoil in bond markets and led to his sacking by Prime Minister Liz Truss.
The new finance minister, known as chancellor in the UK, effectively ripped up the package of unfunded tax cuts delivered by Kwasi Kwarteng and signalled spending cuts that sparked fears of a return to austerity measures amid a cost-of-living crisis.
Treasury officials said the decision followed talks with Truss over the weekend and a meeting with Bank of England governor Andrew Bailey and the head of the Debt Management Office on Sunday night.
Truss's premiership is hanging by a thread, with three Conservative Party MPs already calling for her resignation amid suggestions she had effectively ceded control of her government to Hunt.
Crispin Blunt, Andrew Bridgen and Jamie Wallis all called on her to quit on Sunday, while other senior figures within the parliamentary party expressed deep unease with Ms Truss's leadership.
It came at the end of another extraordinary weekend in British politics, that even saw US President Joe Biden intervene to call Ms Truss's economic vision a "mistake".
Tory MP Robert Halfon, who chairs parliament's cross-party education committee admitted lawmakers were "all talking to see what can be done about it".
"Over the past few weeks, the Government has looked like libertarian jihadists and treated the whole country as kind of laboratory mice," he said.
Reporting by Frank Prenesti for Sharecast