UK govt pensions green paper looks at cuts in final salary rises
'Stressed' companies could be given leeway to change indexation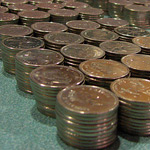 Pensioners in final salary pension schemes could find their benefits cut under new plans put forward by the government on Monday.
Companies who find themselves under "stress" would be allowed to index annual increases to the consumer prices measure (CPI) instead of retail prices (RPI), which is usually higher, according to the consultation document released by the department for Work and Pensions.
This would help companies running a pension deficit, but hit pensioners benefits over the longer term.
The pensions issue has come under the spotlight since the collapse of the High Street retail chain BHS last year which left 20,000 people facing lower payouts after the company's scheme was found to have a £571m deficit.
Former owner Philip Green, who sold the chain to serial bankrupt Dominic Chappell for £1, is at loggerheads with the Pensions Regulator about how to make good the shortfall.
Generally, the government said it was "not persuaded that there is a general 'affordability' problem for the majority of employers running a defined benefit scheme".
"Consequently, we do not agree that across-the-board action is needed to transfer more risk to members, or indeed to reduce members' benefits in order to relieve financial pressure on employers," it said in the document.
"However, we do recognise that there are some companies who are paying very substantial deficit repair contributions which may not be sustainable in the long term. We have therefore considered what might be done for these 'stressed' schemes and their sponsoring employers, and the difficulties in doing so."
"The government does not think the evidence is strong enough to suggest that indexation should be abandoned or reduced across the board. There could however be a case to suspend indexation in cases where the employer is stressed and the scheme is underfunded."
It added that estimates from actuarial consultants Hymans Robertson shoed that a move to CPI from RPI would take away around £20,000 in benefits over an average final salary scheme member's life.
"Moving to statutory indexation only would increase this loss to members substantially," the document stated, adding that there would be a knock on effect on the gilt market and wider government financing objectives.
"Currently, index-linked gilts (ILGs) are linked to RPI, as this was the standard measure of inflation when ILGs were introduced. As pension funds hold nearly 23%78 of their assets in ILGs, any changes to scheme indexation could have significant consequential effects on the price of these gilts, which would affect the Government's ability to issue debt in a cost-effective way."