Trump admits country reopening is worth it despite 'more deaths'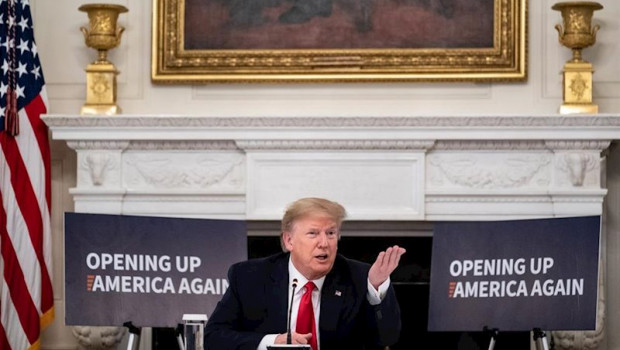 US President Donald Trump acknowledged on Tuesday that reopening parts of the country would inevitably lead to "more death" but said that it was a price worth paying to get the economy back on its feet.
During a visit to the Honeywell factory in Arizona, which is producing N95 respirator masks, the president said: "There'll be more death."
"I'm not saying anything is perfect. Yes, will some people be affected? Yes. Will some people be affected badly? Yes. But we have to get our country opened and we have to get it open soon."
He also claimed the coronavirus "will pass, with or without a vaccine," although his own scientists have contradicted him, saying it could come back in autumn and become a seasonal illness like the flu.
According to health advisors, there is no evidence so far that, in the absence of a vaccine, the virus "will pass" in a way that allows the country to return to a pre-coronavirus "normal".
Top White House health advisor Dr. Anthony Fauci said last month during an interview with The Economic Club of Washington, DC, that Covid-19 is "not going to disappear from the planet."
"In my mind, it's inevitable that we will have a return of the virus, or maybe even that it never went away," CNBC reported him as saying.
Fauci also warned against states easing lockdown measures, saying it could cause "a rebound to get us right back in the same boat that we were in a few weeks ago."
Trump argued on Tuesday that not reopening businesses also costs people their lives, in the form of drug overdoses and suicides.
"It's possible there will be some [deaths] because you won't be locked into an apartment or house or whatever it is," Trump told the ABC's television network.
"But at the same time, we're going to practice social distancing, we're going to be washing hands, we're going to be doing a lot of the things that we've learned to do over the last period of time."
"People are dying the other way, too," said Trump. "When you look at what's happened with drugs, it goes up. When you look at suicides, I mean, take a look at what's going on. People are losing their jobs. We have to bring it back and that's what we're doing."
There is currently no data to support an epidemic of suicide, although health experts said that people's mental health could be affected by the lockdown.
On Tuesday, the US death toll stood at 70,000 with 1.2m people infected across the country.