Tearful May says she will quit on June 7
Embattled prime minister to go on June 7
Large field of candidates expected to run in Tory contest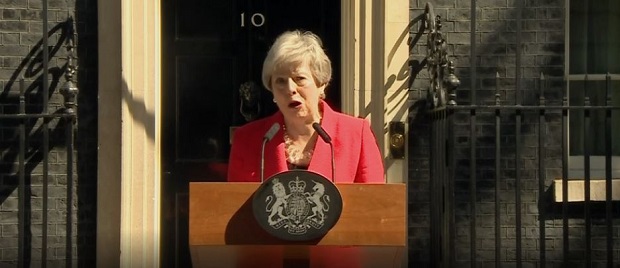 A tearful Theresa May finally fell on her sword on Friday as she said she would quit office on June 7, having failed to secure agreement on her Brexit withdrawal deal.
Speaking outside Downing Street, May said she had done "everything I can to convince MPs to back that deal....sadly I have not been able to do so", adding that she would officially quit on June 7, triggering a leadership contest that is expected to be contested by a large number of candidates.
Wearing a red dress suit, ironically the colour of the opposition Labour Party, May finished her statement in tears before turning and walking through the famous black door of her residence and office.
"It is and will always remain a matter of deep regret to me that I have not been able to deliver Brexit," she said.
"I tried three times. I believe it was right to persevere, even when the odds against success seemed high. But it is now clear to me that it is in the best interests of the country for a new prime minister to lead that effort," May said.
"So I am today announcing that I will resign as leader of the Conservative and Unionist Party on Friday 7 June so that a successor can be chosen. I have agreed with the Party Chairman and with the Chairman of the 1922 Committee that the process for electing a new leader should begin in the following week."
Gaffe-prone former foreign secretary and hard-right Brexiteer Boris Johnson was widely expected to be the frontrunner to replace Maybe Britain's next prime minister, but more than a dozen senior Tory figures are considering throwing their hats into the ring.
Among Cabinet ministers Rory Stewart had already declared he would stand, while Jeremy Hunt, Michael Gove, Penny Mordaunt and Sajid Javid were all expected to throw their hats in the ring.
MAY CORNERED WITH NO-CONFIDENCE THREAT
May met Sir Graham Brady, chair of the Conservative backbench 1922 committee in the morning amid enormous pressure to quit and with the new threat of a no-confidence vote hanging over her if she refused to go. It was the political equivalent of the party leadership leaving the revolver on the table and leaving the room.
She had become increasingly isolated as even supportive Cabinet ministers failed to support the new plan, which included the possibility of a second referendum and a vote on a temporary customs union.
Three previous attempts to force earlier versions through parliament were all overwhelmingly rejected and cross party-talks with the Labour opposition also came to nothing.
On Wednesday, members of the 1922 committee held a secret ballot on whether to change party rules which would allow a vote of no confidence immediately. May fended off a challenge last December which meant MPs could not mount another bid to topple her for 12 months.
The heat on May was turned up when Andrea Leadsom quit as Commons leader on Wednesday saying she no longer believed the government would "deliver on the referendum result".
Home Secretary Sajid Javid and Foreign Secretary Jeremy Hunt both met May at Downing Street on Thursday and said they could not support the proposed withdrawal bill.