Sinn Féin declares victory in Irish elections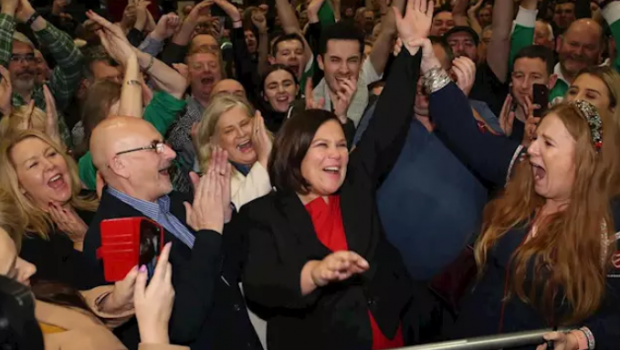 Sinn Féin has managed to secure a victory in Ireland's general elections and requested talks with rivals Fine Gael and Fianna Fáil to form a coalition government.
Party leader, Mary Lou McDonald said: "Sinn Féin has won the election. We have won the popular vote."
Full results were not expected until late on Monday or Tuesday, but the good results for Sinn Féin could mean that the taoiseach and leader of Fine Gael, Leo Varadkar could face calls from within his party to quit as leader.
Fine Gael's Simon Coveney called the voters' verdict "harsh" but backed Varadkar's continued leadership.
Turnout was 62.9%, down from 65.2% in the 2016 election.
Sinn Féin won 24.5% of the first-preference vote in Saturday's election, almost doubling its share from 2016.
Fine Gael slid to 20.9% and the main opposition party, Fianna Fáil, slipped to 22.2% possibly for helping support Varadkar's minority government.
Smaller parties such as the green party accounted for the rest of the vote.
The outcome will result in a hung parliament with no party close to the absolute majority needed for a stable government. It is expected that Sinn Féin will choose one of the two main parties to form a coalition government.
McDonald said her preference was to form a government without either of the two formerly biggest parties but that she would speak to Varadkar and Martin because "that's what grownups do".
"The democratic thing is for them to speak to me and stop this business of saying Sinn Féin can be put on the margin … So many people now have chosen us to represent them."
Varadkar has ruled out a Fine Gael pact with Sinn Féin and floated instead the possibility of a centrist alliance with Fianna Fáil.