Pubs to shut at 10pm as government ramps up Covid-19 restrictions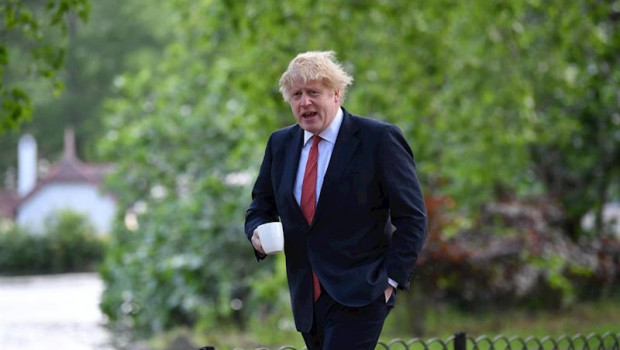 The government has announced a fresh range of restrictions to be in place for at least six months after the number of Covid-19 cases surged.
Addressing the House of Commons, prime minister Boris Johnson said employees who can work at home should now do so - pulling back from earlier entreaties for people to get back into offices. From Thursday, pubs, bars and restaurants can only operate table service and must close by 10pm.
The requirement to wear face masks has also been extended to all retail staff, everyone in taxis or hire cars, and all staff and customers in indoor hospitality venues, other than when they are eating.
The amount of people allowed to attend weddings has been halved to 15, although a maximum of 30 may still attend funerals, while the so-called rule of six will be extended to all indoor adult team sports.
In addition, Covid-secure guidelines will now become legal obligations, with businesses fined or even closed for breaching rules. The fine for failing to wear a face mask or for not following the rule of six has risen to £200, while the military could be brought in if needed to support the police.
"These measures will only work if people comply," Johnson said. "We will provide the police and local authorities with the extra funding they need, a greater police presence on our streets, and the option to draw on military support where required to free up the police."
Johnson also told MPs that the virus was, "for the time being, a fact of our lives" and warned that the restrictions would therefore remain in place for six months. "If the R rate is not reduced to below 1, we reserve the right to use greater firepower with significantly greater restrictions," he added.
On Monday, the UK recorded 4,368 more Covid-19 cases, the second-highest daily total since May, with the R rate now estimated to be between 1.1 and 1.4. The country's alert level was also upped from 3 to 4, the second-most serious stage, meaning transmission of Covid-19 is "high or rising exponentially".
Johnson said that no government wanted to stifle freedoms in the way they had been this year. But he warned that around 1,000 people were now testing positive every day and that the virus was spreading to more vulnerable age groups.
"This is the moment we must act," he said. "We are taking decisive and appropriate steps to balance saving lives to protecting jobs and livelihoods."
Keir Starmer, the Labour leader, said the opposition party broadly supported the measures. But he criticised the government's approach and said families would be worried "the government doesn't have a clear strategy. This is a time of national crisis and we need clear leadership."
Asked about the measures by the BBC, Carolyn Fairbairn, director-general of the CBI, said: "They are a really crushing blow in many ways. Everyone understands that the number one priority is to avoid a second wave but the effect on our economy is going be very serious.
"It should be kept as short as possible - six months will be quite a shock to people. Everything should be done to bring that forward."
She said a successor scheme to the furlough scheme, which ends on 31 October, was also "desperately needed".
Roger Barker, director of policy at the Institute of Directors, said: "These new measures will inevitably put the brakes on the economic recovery somewhat, but businesses will hope they prevent stricter measures down the road.
"The onus is squarely on the government to set out its next phase of its support. Key schemes are set to wind down in the months ahead, but it's clear that businesses aren't out of the woods yet."
Tom Stainer, chief executive of the Campaign for Real Ale, said: "This curfew is an arbitrary restriction that unfairly targets the hospitality sector and will have a demonstrating impact on pubs, jobs and local communities. Camra is calling on the government to publish the evidence that pubs or restaurants are the source of more transmissions than other sectors across the country."