Julian Assange's loses court appeal on UK arrest warrant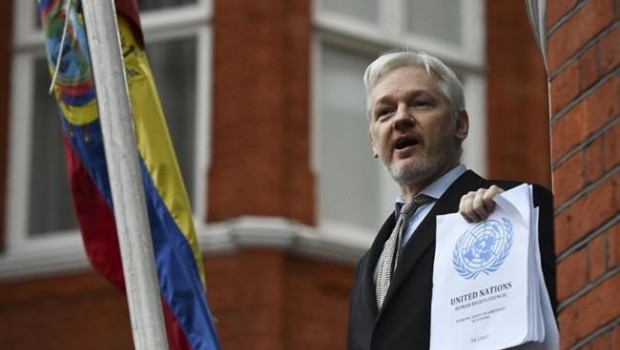 A judge in London ruled that the arrest warrant for Wikileaks founder Julian Assange remains valid after he presented an appeal to persuade British authorities to drop charges against him for breaching his bail conditions when he entered the Ecuadorian embassy.
Julian Assange broke his bail conditions with the UK when he entered the Ecuadorian embassy in 2012 because, he said, he feared that the UK government would give him up to Swedish authorities.
Sweden had issued an arrest warrant over sexual assault allegations and Assange claimed any arrest would ultimately lead to his extradition to the US where he has been wanted since the leak of secret government documents through his WikiLeaks platform. He remains an arrest priority for both the FBI and CIA.
Assange this month presented a plea to the UK authorities to drop charges against him so he can leave the Ecuadorian embassy now that Sweden had discarded the sex crime charges against him.
His legal team claim that the warrant is no longer useful since it has lost its purpose and function when the Swedish charges were dropped. The lawyers also said that Assange's behaviour in seeking to break his bail conditions was understandable since he offered cooperation to the Swedish authorities and he was sure the US didn't apprehend him because he was in an embassy.
His lawyer argued that if Assange were to step out of the embassy there was a major risk of being extradited to the US to face prosecutions for the leaks. Lawyer Jennifer Robinson said: "Mr Assange remains ready to face British justice … but not at the risk of being forced to face American injustice."
The Westminster Magistrates Court judge, Emma Arbuthnot, rejected these points and said Assange was not actually prisoner and his living conditions proved it: "He is a man who wants to impose his terms on the course of justice," she said, and "he wants justice only when it's in his favour."
The judge also added he should have had the courage to at least attend court. "I find arrest is a proportionate response even though Mr Assange has restricted his own freedom for a number of years.
"Defendants on bail up and down the country, and requested persons facing extradition, come to court to face the consequences of their own choices.
"He should have the courage to do the same. It is certainly not against the public interest to proceed."