Climate change protesters block central London roads, dozens arrested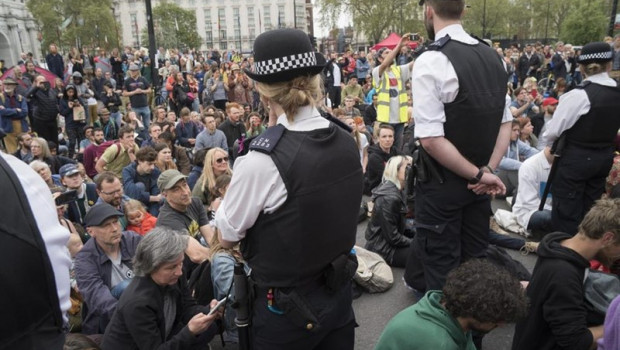 Hundreds of climate change protesters blocked major roads around parliament in London on Monday, marking the start of two-weeks of peaceful demonstrations to force the government to change its policies on environmental issues.
The demonstration was organised by activist group Extinction Rebellion and at least 135 were arrested.
The group demands that the government "tell the truth by declaring a climate and ecological emergency", commit to bringing forward the target for net zero greenhouse gas emissions from 2050 to 2025 and establish a "citizens' assembly on climate and ecological justice".
Extinction Rebellion rose to international prominence after nearly shutting down London with its demonstrations in April.
Organisers of the "October Rebellion" hoped to attract 10,000 people to the streets of London over the next two weeks.
Simultaneous protests were planned in more than 60 cities worldwide.
The non-violent strategy included drenching the Treasury in Westminster with fake blood, which they did on 3 October.
Also on 7 October, protesters chained themselves to two cars blocking Westminster's Victoria Embankment.
"It's the Western countries, the European countries, North America that have got us into this mess. And so, personally speaking, I think we have a big responsibility to try and get us out of that," Jonathan Mintram, regional liaison coordinator with Extinction Rebellion in the UK, told The Verge.