Cameron joins ex-Tory PMs' criticism of Brexit bill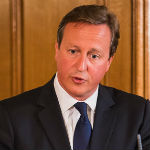 David Cameron has become the third former Tory prime minister to express concerns about the government's proposal to break international law over Brexit - though in weaker terms than John Major and Theresa May.
On Monday, before a parliamentary debate on Boris Johnson's internal market bill, Cameron said: "Passing an act of parliament and then going on to break an international treaty obligation is the very, very last thing you should contemplate.
"It should be an absolute final resort. So I do have misgivings about what's being proposed."
Cameron is the last living Conservative prime minister to criticise the bill after sharp words from Major and May. At the weekend Major, writing with ex-Labour prime minister Tony Blair, urged MPs to vote down Johnson's "shameful" attempt to override parts of the Brexit withdrawal agreement.
May and former Tory leader Michael Howard, a Brexit supporter, have also warned in strong terms that Johnson's plans could threaten the UK's international reputation.
Cameron said the UK was conducting important negotiations with Brussels and that there was a "big prize" at stake. "That's why I have perhaps held back from saying more up to now," he added.
Cameron, prime minister for six years from 2010, called and lost the Brexit referendum in 2016, plunging the UK into years of political turmoil. He quit straight after the referendum result.
After leaving the EU in January the UK has until the end of the year to agree a trade deal with its biggest trading partner. Johnson faces a potential parliamentary rebellion over threats to override what he said was a "great deal" last year.
Justice Secretary Robert Buckland said on Sunday the option to break international law was a "break the glass in emergency" provision that was unlikely to be used.