Trade barriers are unacceptable, DUP's Foster says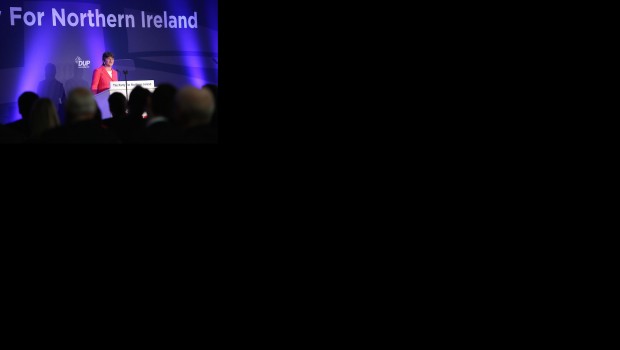 Arlene Foster has reiterated her insistence there can be no trade barriers between Northern Ireland and the rest of the UK as MPs ready themselves for the next round of Brexit talks.
The leader of the Democratic Ulster Party, which is propping up Theresa May's Conservative government, travelled to Brussels on Tuesday to meet with EU chief negotiator Michel Barnier.
The DUP has long made it clear it will not accept any new regulatory or customs barriers between Britain and Northern Ireland, it's so-called red line, and after the meeting – which Foster called "useful" – she reiterated her objections.
She tweeted: "There cannot be barriers to trade erected between Northern Ireland and the rest of the UK. GB is our main market. The UK voted to leave the EU. Result must be respected. The nation must leave together."
Addressing journalists at a press conference, she said this was "a seminal moment" for the four constituent parts of the UK.
Pressed on whether she would block the government's final deal with the EU, Foster refused to be drawn - other than to insist that trade barriers were unacceptable and the party would need to see the text first. "The DUP will have to be satisfied the outcome does not damage the UK," she said.
Barnier tweeted of the meeting that they had been "working hard to explain and de-dramatise the backstop".
Northern Ireland is one of the biggest issues yet to be resolved. Talks had all but drawn to a standstill as both sides struggled to compromise.
Talks will get underway again on 17 October. Ahead of that, Dominic Raab, the Secretary of State for Exiting the European Union, will update MPs at 3.30pm on Tuesday. It is understood he will seek to reassure MPs – especially Conservative ones unhappy with the Prime Minister's Chequers proposals – that May will not agree to compromises that disadvantage the UK.
Earlier on Tuesday, Penny Mordaunt, Secretary of State for International Development, said the Prime Minister "can count on my support" but did not back the Chequers plan specifically.
The pound was trading higher against the euro at 1.14 at 1300 BST. Trading has been increasingly volatile as markets wait for news of a concrete breakthrough in the Brexit negotiations.