Wood Group revenue falls as it talks up agility in uncertain market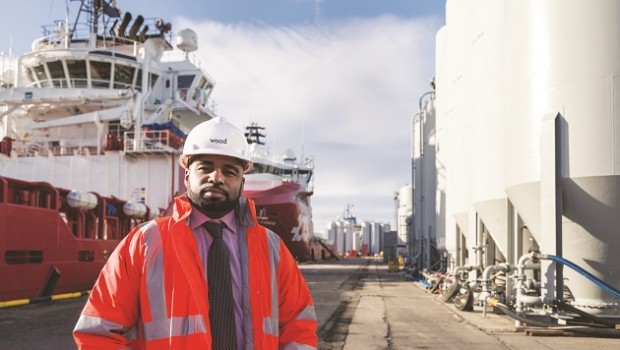 Wood Group reported a 1.2% fall in revenue in its final results on Tuesday, to $9.89bn (£7.57bn), which it said reflected "generally robust activity" across the energy and built environment markets during the year.
The FTSE 250 engineering firm said its adjusted EBITDA was up 5.4% on a like-for-like basis for the 12 months ended 31 December at $704m, as its adjusted EBITDA margin was 0.4 percentage points higher at 7.1%, also on a like-for-like basis.
It said its operating profit before exceptional items was 15.1% firmer year-on-year at $411m, while its adjusted diluted earnings per share were 1.3% lower at 46 US cents.
Adjusted EBITDA and operating profit before exceptionals were both in line with the company's guidance and expectations.
Wood's profit for the period of $73m, swinging from a loss of $8m, was said to have benefitted from a "significant" reduction in exceptional items, net of tax, to $127m from $183m.
Exceptional costs included a $46m provision in respect of certain regulatory investigation settlements, the board said.
The board said the total dividend for the year was 35.3 cents, up 0.9%, while its net debt excluding leases narrowed 5.9% to $1.42bn, thanks to "strong" cash conversion of 96%.
It proposed a final dividend of 23.9 cents, in line with its progressive dividend policy.
Wood Group's order book stood at $7.9bn, which was 7.3% lower than at the end of the prior year.
The company noted the disposal of its nuclear and industrial services businesses in the first quarter of 2020, which generated proceeds of around $430m and delivered a target leverage of 1.5x on a proforma basis.
Looking ahead, Wood said its current order book reflected its short cycle model, the work off of legacy fixed price work as the portfolio was de-risked, and enhanced tender governance.
It said current visibility was "typical" for the time of year, with around 60% of forecast revenue covered by the order book, of which about 75% was reimbursable.
Wood said its existing forecasts and order book supported modest underlying revenue growth and growth in underlying EBITDA, underpinned by margin improvements, as set out in its January trading update.
The company's existing forecast for cash generation in 2020 anticipated lower provisions movements, and reductions in known exceptional items and capital expenditure.
It explained that the timing of any settlement of regulatory items was uncertain, although it was possible that it could be in 2020.
The benefit of a "maintained focus" on working capital management was likely to be "more than offset" by the current expectation of an unwind of advances on EPC projects received in 2019.
Wood noted that the recent impacts of the Covid-19 coronavirus outbreak, the "substantial" reduction in oils price and actions it would take to mitigate were not reflected in its existing forecasts, as they were too early to quantify.
It said it had seen no material impact from Covid-19 to date.
The company's board pointed to its track record of leveraging its flexible, asset light model in response to changing market conditions, adding that in the last five years it had diversified end markets, with upstream and midstream oil and gas representing just 35% of revenue.
Looking further ahead, Wood Group said it was "well positioned" for growth opportunities presented by trends in energy transition and sustainable infrastructure, with a "unique range" of capabilities and breadth of customers and markets.
"In 2019 we delivered earnings growth, margin improvement and strong cash generation which resulted in a reduction in net debt," said chief executive officer Robin Watson.
"Our strategy has driven decisive action to align Wood with the significant growth opportunities in energy transition and sustainable infrastructure and we made good progress on portfolio optimisation and the repositioning of our consulting, project and operations service offering in 2019."
Watson said the disposal of Wood's nuclear and industrial services businesses generated proceeds of around $430m in the first quarter of 2020, and accelerated the firm's progress to its target leverage.
"We are confident that from this foundation we are building a differentiated, premium, higher margin business, supported by a continued focus on margin improvement, execution excellence and portfolio optimisation."
At 0913 GMT, shares in John Wood Group were down 2.94% at 263.8p.