Whitbread sales froth up at Costa and Premier in first quarter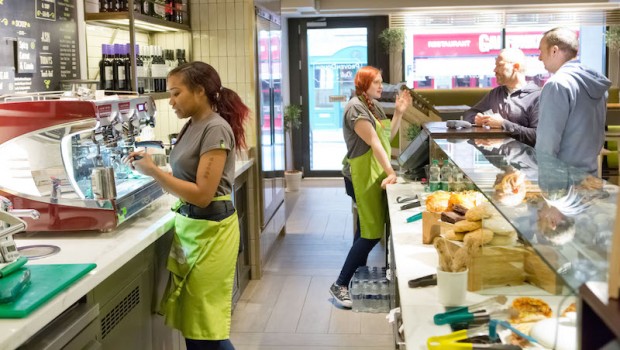 Whitbread booked in a strong start to its new financial year, with revenues at its Premier Inn hotels accelerating and Costa coffee shops sales returning to like-for-like growth.
Total sales for the 13 weeks to 1 June were up 7.6% and LFL sales were up 2.9%,
Premier Inn's total sales rose 9.2% and LFL sales by 4.7%, with total sales little changed since the fourth quarter of last year and LFLs a big improvement from the 2.7%.
The hotel chain continued to win overall market share amid a resilient hotel market and the near-9,000 rooms opened over the last two years, with revenue per available room (revpar) up 3.1% on last year versus a market up 4.1%.
Total UK occupancy was up compared to the first quarter last year at 79.2%, at the same time as capacity increased.
For Costa total sales frothed up 8.7% amid a swathe of new openings and LFL sales bounced 1.1% after an 0.8% decline in the fourth quarter, but are below the 2-3% full year expectation.
However compared to last year, Costa LFL sales are well down on the 2% gain in the last financial year and the 2.9% reported the year before that.
To boost sales amid the current heatwave there are new initiatives being rolled out including 'cold brew' coffee in over 200 stores and latest summer 'Frostino' banana and caramel blends and other cooler drinks have just gone on sale in June.
A breakfast range was introduced towards the end of the quarter, with further new food ranges launching throughout the year, while in May a new roastery opened to provide capacity to grow over the next 20 years and provide us with an industry-leading centre for coffee innovation and training.
Looking overseas, chief executive Alison Brittain said the five-hotel pipeline in Germany was being developed, with a Premier Inn hotel in Frankfurt performing well, while Costa was seeing good progress in China with positive like for like sales growth.
"We aim to accelerate the development of our international businesses in these attractive markets and continue to look for opportunities to grow more quickly."
In line with the property strategy, the the sale and leaseback of a 247 room hotel in Shoreditch was completed with proceeds of £51m representing a yield of just under 4%, with further proceeds of around £100-150m expected from sale and leaseback transactions this year.
"We have a clear plan to deliver growth in our existing estate and remain on track to open circa 4,200 hotel rooms, 230-250 Costa coffee shops and install circa 1,250 Costa Express machines this year," Brittain added.
MARKET REACTION
Shares in Whitbread, which had been falling since the start of the month, jumped over 4% to 4,037p in the first half-hour of trading on Wednesday.
Analyst Neil Wilson at ETX Capital said the current heatwave will prove a key test for Costa's Cold Brew and Frostino products as Costa sales "continued their slow decline as the nation switches to a wider array of pricier artisan coffees".
He said the faster total growth from new coffee shop openings and Costa Express machines this year mean that while slowing LFL growth "is a concern" the growth of the top line growth and a focus on more expensive 'finer coffee' should help.
Shore Capital's Greg Johnson said Costa's rebound from the negative prior quarter was still below the 2-3% FY expectation "although the hot weather may have seen some drag in the period".
Group sales were consistent with his full year expectations of 2.5% and he said overall it was a "decent statement... which belies the recent weakness in the price especially given the property support".
Nicholas Hyett at Hargreaves Lansdown said the results are "pretty solid all things considered", being unable as they were to show the spectacular growth of years past, "but the UK business is a more mature animal than it was and that is inevitably going to slow growth".
"The group continues to set some fairly chunky growth targets for the rest of this year, which could be challenging if the UK economy remains sluggish. However, it's the international business that seems likely to become the long term growth driver. Although there's little in the way of fresh news this time round, performance remains robust."