Wetherspoon boss warns on Covid-19 restrictions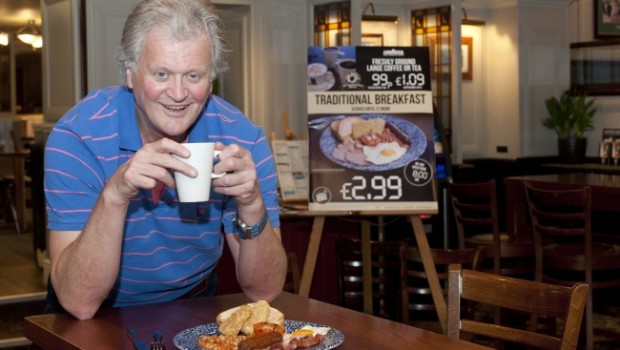 JD Wetherspoon boss Tim Martin warned against making pubs unprofitable based on flimsy evidence as the UK introduced strict new rules on social gathering to combat Covid-19.
Martin said sales on Saturday were 22.5% down from a year ago, showing that predictions of chaotic mass drinking before the crackdown were false.
"In fact, trade was very quiet over the weekend, as the public weighed up the evidence about the alleged dangers of going out," Martin said. Wetherspoon shares fell 2.3% to 905p at 08:44 BST.
Wetherspoon's chairman said his pubs had about 32m visits in the 10 weeks since 4 July when they were allowed to reopen after three months of Covid-19 shutdown.
Since reopening there have been 66 positive tests for coronavirus among more than 41,000 Wetherspoon employees and 811 of 861 pubs have had no positive tests, he said. Most cases were mild or asymptomatic and 28 of the employees affected are back at work after self-isolating, Martin said.
Martin said the figures indicated pubs were safe places to gather and that negative headlines were misleading. The government has banned gatherings of more than six people to try to stem a rise in Covid-19 cases - a move that has made many Conservative MPs unhappy.
Wetherspoon's founder renewed his criticism of the press and some scientists for treating pubs as dangerous Covid-19 incubators. He said there were more cases at a farm in Hereford than the whole of his company and more than four times as many cases at a sandwich factory in Northampton.
Martin, who owns about 27% of the FTSE 250 company, said: "If pubs are closed, or restricted so much that they become unprofitable, a great deal of the strenuous effort of the hospitality industry's 3.2m employees, currently engaged on upholding hygiene and social distancing standards, will be lost - leaving the public to socialise at home or elsewhere, in unsupervised circumstances.
"The UK has adopted a colossally expensive 'big brother' approach, based on exhortation, lockdowns, bewilderingly frequent changes of direction and other heavy-handed initiatives."