Vesuvius's end markets continue rebound in H1, company gains market share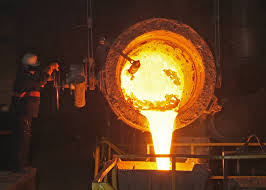 Vesuvius posted better than expected interim profits as end markets continued to rebound from the Covid-19 pandemic.
Particularly noteworthy were market share gains in the company's Steel Flow Control and Foundry divisions, according to analysts at Jefferies.
And looking past the current recovery phase from the pandemic, Vesuvius boss, Patrick Andre, said: "we expect continuing structural growth in our end markets of steel and foundry to present attractive organic growth opportunities, supported by the strategic expansion of our Steel Flow Control production capacities in Asia and EMEA."
Over the first six months of 2021, the manufacturer reported an 18% year-on-year rise underlying sales to reach £808.1m and an 89% jump un profit before tax to £65.5m or 15.9p per share, the latter on a statutory basis.
Headline profit before tax was up by 53% on the year to £70.3m (Jefferies: £61.4m).
Raw material price increases would be offset through the company's own price hikes now being implemented, the company said.
During the period just ended, selling price increases did compensate for dearer raw materials, but did not fully mitigate excess freight costs.
Net debt reduced 14% to £196.6m, falling to 1.1 times earnings before interest, taxes, depreciation and amortisation, from 1.2 at year-end 2020.
The company also refinanced its revolving credit facility and increased its size from £300m to £385m.
"We remain confident that we will deliver further meaningful improvement in our financial performance in the coming years, based on our optimised manufacturing footprint, our ongoing R&D investment and new product pipeline, as well as our entrepreneurial and decentralised business model," Andre added.
The interim dividend was doubled to 62.p.
Commenting after the company's latest results, analysts at Jefferies said the shares were "cheap", labelling Vesuvius's cash generation "impressive" and the organic growth and market share gains in Steel Flow Control and Foundry "particularly pleasing".
They also noted the investment in additional capacity in Flow Control and believed there was scope for mergers and acquisitions and special dividends.
As of 1245 BST, shares of Vesuvius were climbing 3.38% to 535.50p.