UK to avoid recession as Hunt unveils 'budget for growth'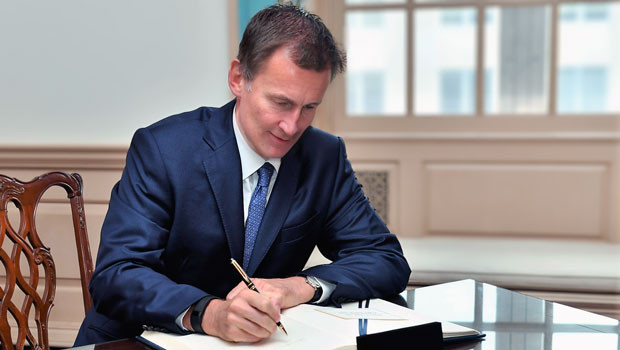 The UK will avoid a technical recession this year with inflation falling below 3%, the chancellor of the exchequer confirmed on Wednesday, as he unveiled a 'budget for growth'.
In his first March budget since becoming chancellor last autumn, Jeremy Hunt said the British economy was "proving the doubters wrong", and that inflation had now peaked.
The Office for Budget Responsibility now expects inflation to fall from 10.7% at the end of 2022 to 2.9% by the end of 2023. It also forecast that the UK will narrowly avoid a technical recession this year, although the economy will still contract by 0.2%.
GDP is then forecast to grow by 1.8% in 2024 and 2.5% in 2025, although that rate will ease to 2.1% and 1.9% in 2026 and 2027 respectively.
In November the OBR forecast GDP to fall by 1.4% this year, but to grow by 2.5% in 2025, by 2.1% in 2026 and 2.2% in 2027.
Hunt also unveiled a number of measures - most of which had been widely trailed before the budget - aimed at boosting productivity and growth, with a focus on "removing obstacles that stop businesses investing, tackling labour shortages [and] breaking down barriers that stop people working".
He confirmed the annual allowance - which sets how much a worker can save in pension pots before paying tax - will increase to £60,000 from £40,000, while the lifetime allowance, which most thought would rise, would be scrapped entirely. The lifetime allowance is the amount of savings that can be set aside before being eligible for tax.
Both measures are aimed at keeping professionals such as senior doctors in work for longer.
Sanctions will also be applied "more rigorously", meanwhile, for those on universal credit who are deemed not to be looking hard enough for work.
The UK's higher-than-average childcare costs were also addressed. Hunt said 30 hours of free childcare a week, which is currently only available for children aged three and four of working parents, would be extended to include children from nine months.
The changes are to be introduced in stages, and it will not be until September 2025 that all under-fives of working parents will be covered.
Looking to the wider economy, Hunt said he would establish 12 investment zones in cities around the country, which he dubbed "12 potential Canary Wharfs".
He declined to keep corporation tax at 19%, instead confirming that it will go up to 25% in April as planned.
But he said the impact would be potentially offset by "full capital expensing" for the next three years, with the intention of making it permanent "as soon as we can responsible do so". Under the plans, Hunt said every pound a company invests in IT equipment, plant or machinery can be deducted "in full and immediately" from taxable profits.
Samuel Tombs, chief UK economist at Pantheon Macroeconomics, said: "Fiscal policy will no longer dampen GDP growth over the next year, following the chancellor's tweaks today. Indeed, the OBR predicts that the primary deficit will increase to 2.2% of GDP in 2023/24, whereas previously it expected it to be reduced by 0.6%.
"The MPC, however, needn't respond to this loosening of fiscal policy, as most of the new measures are designed to boost the economy's supply side.
"The chancellor remained committed to many policies that will bear down on demand over the year. He has stuck to plans to effectivity increase labour taxes in April by freezing, in nominal terms, the thresholds for national insurance contributions and the basic and higher rates of income tax."
Tom Selby, head of retirement policy at AJ Bell, said: "Hunt has unveiled a pensions tax-cutting bonanza far beyond anyone's pre-budget expectations, and the most significant retirement policy intervention since the 2015 pension freedoms.
The lifetime allowances has long acted as a drag anchor on strong investment performance and a deterrent to retirement saving, while also creating horrendous complexity in the system. It has also added to the huge turmoil engulfing the NHS, with senior doctors choosing early retirement over paying a pension tax penalty."
Victoria Scholar, head of investment at Interactive Investor, said: "Wednesday's sell off across equities, with sharp declines in the banking sector, have overshadowed the impact from the Treasury's fiscal plans for spending and taxation.
"Investors are flocking to safe-haven stocks, while financials and oil stocks are at the bottom of the FTSE 100.
"Despite attempts by the chancellor to paint a rosy picture, with improved figures on growth and inflation, the strain on the financial sector is yet another headwind to contend with. The market turmoil and economic fallout are paving the way for a much smaller chance of a rate hike from the Bank of England this month."