UK supermarkets fear panic-buying amid 'pingdemic' fiasco
Industry wants self-isolation exemptions to keep shelves stocked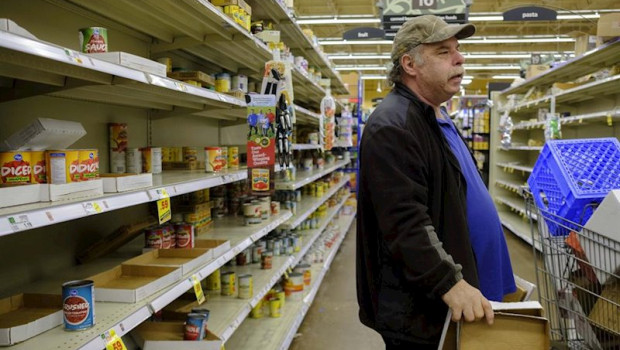 British supermarkets have called on the government to include the sector in its plan to exempt critical workers from isolation if they have been "pinged" by the NHS Covid test-and-trace app amid fears of food shortages on shop shelves.
They also urged shoppers not to panic buy, fearing a repeat of last year when the pandemic struck amid ugly scenes of customers fighting over essential goods as shelves were emptied within hours.
Industry bosses said they were under "increasing pressure" to keep shelves fully stocked as the so-called "pingdemic" forced thousands of workers to self-isolate.
They want supermarket staff, truck drivers and other frontline workers to be exempted from 10-day self-isolation under a proposed scheme that would see staff to return to work after a PCR test and daily lateral flow tests.
However, the government has yet to publish a list of which sectors can take part in the scheme with the added complication that exemptions will be considered on a case-by-case basis.
Andrew Opie, director of food at the British Retail Consortium , said staff shortages could have an impact on opening hours and shelf stacking.
"The ongoing 'pingdemic' is putting increasing pressure on retailers' ability to maintain opening hours and keep shelves stocked. Government needs to act fast," said Opie.
"Retail workers and suppliers, who have played a vital role throughout this pandemic, should be allowed to work provided they are double vaccinated or can show a negative Covid test, to ensure there is no disruption to the public's ability to get food and other goods."
RETAILERS UNDER PRESSURE
Grocery chain Iceland is aiming to recruit 2,000 spare staff to help cover staff shortages, adding that it had reduced trading hours and even shut some stores.
The chain's managing director Richard Walker said more than 1,000 workers – just over 3% of the group's total – had been asked to self-isolate after being pinged by the app.
He said some stores experiencing much higher vacancy rates than others – while the number of people having to isolate was "growing about 50% week on week, and that was really alarming".
"Supermarkets need to focus on feeding the nation not writing to government departments," he said. He said that about 96% of those alerted by the NHS app who worked for Iceland did not test positive for Covid-19.
"Our big concern is that we've kept all of our shops open throughout the pandemic, but now we have had to close one or two shops and reduce hours in others.
"But that could get a lot worse a lot quicker, unless the country's system is sorted out."
However, Walker urged shoppers not to panic buy, saying: "There is certainly no problem with supply of stock. Panic-buying is only an option for those who can afford it and it often means that others go without."
Tesco said it had run out of bottled water in its warehouses, while the Co-op said supplies at "a large majority" of its stores had been disrupted to "due to the impact of Covid/isolation of colleagues".
"This is a short-term but significant impact and has impacted our ability to supply stores. These issues are impacting a large majority of Co-op stores," a Co-op spokesperson said.
The self-isolation problem is adding to shortages of delivery workers, especially truck drivers, caused by a mix of Brexit, Covid and changes to tax rules.
BP said industry-wide lorry driver shortages were causing temporary fuel supply issues which saw a "handful" of its UK sites close temporarily. The oil giant's supply chain had also been affected by the closure of a fuel distribution terminal because of Covid isolations among staff last week.
However, BP told the BBC the "vast majority" of shortages were "resolved within a day".
Royal Mail said that, in a "limited number of areas", services were being disrupted due to Covid-related absences.