Tullow Oil back in the black in H1, boosts free cash flow and cuts debt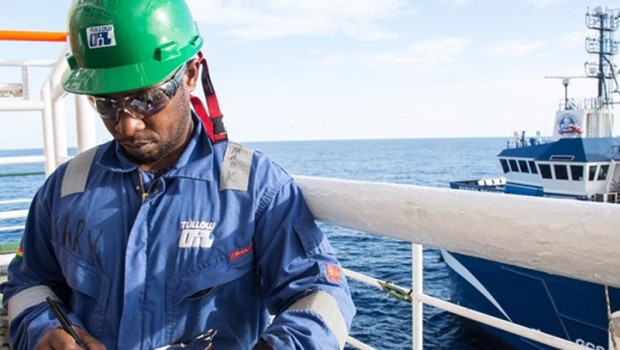 Tullow Oil moved back into the black, boosted its free cash flow and significantly cut debt during the front half of its financial year.
Key to all of the above, the oil explorer refinanced its liabilities during the period, successfully issued $1.8bn of medium-term debt and clinched a new $500m revolving credit facility.
Group working interest production averaged 61,230 barrels per day, in line with expectations, for roughly steady sales over the six months to June of $727m.
Tullow also pocketed $133m from the sale of its permits in Equatorial Guinea and for Dussagy Marin.
Combined, the company managed to turn a profit after tax of $93m as opposed to the $1.33bn of red ink seen one year before.
In parallel, Tullow also turned free cash flow positive to the tune of $86m, against an outflow of $213m in the year earlier period.
The debt pile meanwhile reduced from $3.02bn to $2.3bn.
Net debt was cut to 2.6 times the company's earnings before interest, taxes, depreciation and amortisation from 3.0 times one year before.
Looking ahead, Tullow narrowed its full-year production guidance to 58,000-61,000 b/d, helped by the decision to defer the shutdown of its Jubilee field and higher production at Simba.
Capital investment and decomissioning spend was pegged at approximately $260m and $90m, respectively.
At $60 a barrel of oil for the remainder of the year, the company projected a full-year underlying operating cashflow of roughly $600m.
Free cash flow for the 12 months meanwhile was seen at about $100m, rising by $50m should the oil price average $70 a barrel over the second half.
That guidance also incorporated expectations that a $75m payment from Total would be triggered if a Final Investment Decision for the Lake Albert development in Uganda occurred before the end of 2021.
If not, then Tullow anticipated a $75m payment in 2022.