Thomas Cook tanks as it posts £1.46bn loss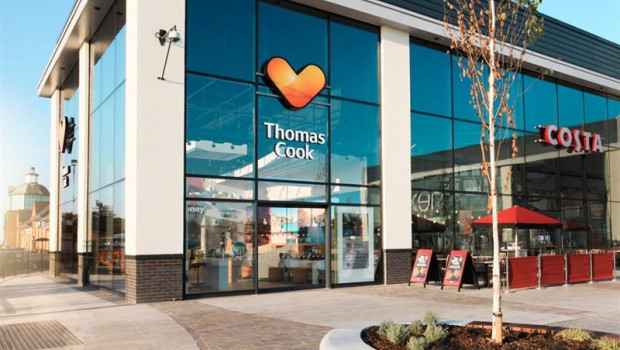 Thomas Cook shares tanked on Thursday as the company said losses widened in the first half of the year amid "challenging" trading conditions, warned over second-half earnings and confirmed that several bids had been received for all and part of its airline.
In its results for the six months to 31 March 2019, the travel company reported a loss before tax of £1.46bn compared to a £303m loss in the same period a year ago. The group said the loss reflects a £1.1bn non-cash impairment of historic goodwill, largely related to the merger with MyTravel in 2007 which it has re-valued in light of the weak trading environment.
Stripping out the impairment, the underlying earnings before interest and tax loss increased to £245m from £170m.
Revenue during the period dropped to £3bn from £3.2bn and net debt rose to £1.25bn from £886m.
Chief executive Peter Fankhauser said there was "little doubt" that the Brexit process had prompted many UK customers to delay their holiday plans for this summer. In addition, he said the prolonged heatwave last summer and high prices in the Canaries reduced customer demand for winter sun, particularly in the Nordic region.
"Our current trading position reflects a slower pace of bookings, against a strong first half in 2018, and our decision to reduce capacity in order to mitigate risk in the tour operator and allow our airline to consolidate the strong growth it achieved last year," said Frankhauser.
"As we look ahead to the remainder of the year, it's clear that, notwithstanding our early decision to mitigate our exposure in the 'lates' market by reducing capacity, the continued competitive pressure resulting from consumer uncertainty is putting further pressure on margins. This, combined with higher fuel and hotel costs, is creating further headwinds to our progress over the remainder of the year."
As a result, it now expects underlying EBIT in the second half to fall compared to the previous year.
In addition to confirming that it has had received "multiple" bids for its airline, Thomas Cook said it has secured a £300m bank facility to provide additional liquidity for the winter 2019/20 season, depending on the sale of the airline.
At 0900 BST, the shares were down 18% at 18.94p.
Laith Khalaf, senior analyst at Hargreaves Lansdown, said the statement makes for grim reading.
"The travel operator was already reeling from last year's warm summer, only to be hit by a downturn in consumer demand in Sweden and Germany.
"Trading in the UK market is also challenging, with consumers delaying holiday plans until there's some clearer direction on Brexit. With last year's heat wave fresh in the memory, many British holidaymakers will no doubt be thinking it's best to stay put this summer.
"Thomas Cook's scaled back the holidays it's offering in response to lower consumer demand, but the competitive environment means that even so, it's having to offer discounts to get customers to part with their cash.
"If that wasn't enough, fuel and hotel costs are rising, while Thomas Cook also says its feeling pressure from the environmental backlash against air travel. A large £1.1 billion goodwill writedown doesn't have any cash effects on the business, but it is illustrative of the scale of the problems besetting Thomas Cook."
Khalaf said the £300m of fresh funding secured is "the one glimmer of good news".
Russ Mould, investment director at AJ Bell, said: "While the seasonal nature of their business means travel companies are nearly always loss-making in the first half of their financial year, booking a £1.45bn loss is something else entirely. Don't just book it Thomas Cook it indeed.
"Although this number looks very scary, as much of this relates to a write-off related to a merger from more than a decade ago, it is also worth keeping in perspective. Of much greater concern is a major profit warning and the creeping increase in net debt above the £1bn mark, with the company going cap in hand to lenders for another £300m to get it through the next winter season.
"Brexit uncertainty and other headwinds like rising fuel costs, excess capacity and a competitive industry environment give management little room for manoeuvre.Speculation over an emergency fundraise, which mounted at the end of 2018, is only likely to ramp up from here despite the company's plan to flog off its airline operations. Alternatively, could Chinese major shareholder Fosun step in with a bid?"