Thomas Cook seeking a further £200m in funding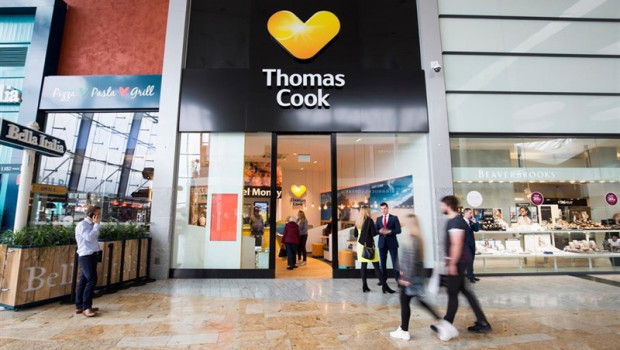 Beleaguered travel company Thomas Cook confirmed on Friday that it is looking for an additional £200m in funding to avoid going bust, as unions called on the government to intervene.
"Discussions to agree final terms on the recapitalisation and reorganisation of the company are continuing between the company and a range of stakeholders, including its largest shareholder, Fosun Tourism Group and its affiliates, the company's core lending banks and a majority of the company's 2022 and 2023 senior noteholders," it said.
Thomas Cook reiterated that the recapitalisation would result in existing shareholders' interests being "significantly" diluted and highlighted a "significant risk of no recovery".
The group announced last month that there had been "substantial agreement" on the key commercial terms of a rescue deal that would see Fosun, its largest shareholder, take a 75% stake in the tour operating business and a 25% stake in the airline for £450m. Meanwhile, its core lending banks and noteholders would shell out £450m for a 75% stake in the airline and a 25% share of the tour operator.
At 1130 BST, the shares were down 16.3% at 3.74p.
CMC Markets analyst David Madden said: "The Thomas Cook funding crisis, like Brexit, seems to be never ending. The travel group is at risk of collapsing if it doesn't receive the financing, but traders are worried this £200 million might not be the last funding request."
Pilots union Balpa called on the government to intervene on Friday, arguing that bailed-out banks should not pull the plug on Thomas Cook.
"With a £900m financial restructuring package involving the Chinese company Fosun, Thomas Cook looked to have secured its future when at the last minute its banks, including RBS and Lloyd's, demanded an additional £200m liquidity," it said.
"These same banks were bailed out by the taxpayer to the tune of £65bn and RBS is majority owned by the state."
Balpa general secretary Brian Strutton said: "It is appalling that banks that owe their very existence to handouts from the British taxpayer, show no allegiance to a great British company, Thomas Cook, when it needs help. This puts 9,000 good quality UK jobs needlessly at risk and puts an iconic British brand in jeopardy.
"The government has a say in this, owning one of the key banks and still with huge influence over the other. RBS and Lloyd's should be told by the Prime Minister to support Thomas Cook."
He pointed out that if Thomas Cook goes into administration it will cost the taxpayer as much to repatriate holidaymakers as it would to save the company.
"The government sat on the sidelines wringing its hands when Monarch Airlines was let down by its financiers, this time government needs to get a grip and do its bit to save Thomas Cook," he said.
Travel workers union TSSA also urged the government to rescue Thomas Cook, pointing to the lack of competition that would ensue if the company was allowed to collapse.
TSSA general secretary, Manuel Cortes, said: "Our members are going through a time of great stress and worry over their futures. We will, of course, do all we can to help - what's needed now is clarity about the future of the company.
"Thomas Cook must be rescued no matter what. This is not just about the threat of losing jobs and an iconic brand from our high streets but the fact that if Thomas Cook goes under, we will be left with just one major travel operator - TUI - controlling the mass market.
"That would be in no-one's interests - a lack of competition will always lead to a hike in prices. If need be the government must step in to ensure Thomas Cook's survival."