TBC Bank swings to profit as return on equity turns positive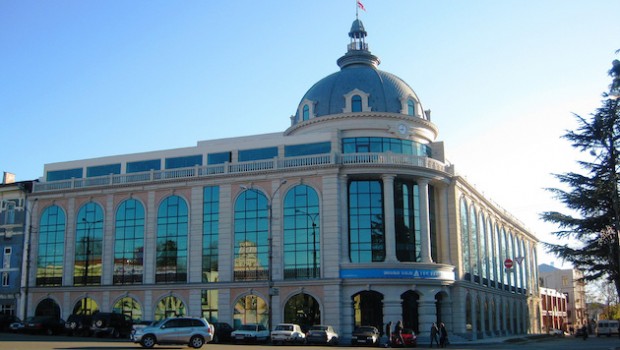 TBC Bank Group reported profit of GEL 153m (£31.74m) in its first quarter on Tuesday, swinging from a loss of GEL 57m a year earlier, as its return on average equity improved to a positive 20.3% from a negative 8.8% year-on-year.
The London-listed, Georgia-focussed bank said its return on average equity before expected credit loss allowances stood at 22.6%, compared to 29.2% in the first quarter of the prior year.
Its return on average assets rose to a positive 2.7% from a negative 1.2%, while the group's cost-to-income stood at 39.3%, rising from 36.7% a year earlier.
The bank's standalone cost-to-income ratio was 33.1%, up from 31.8%, while the group's cost of risk stood at 0.5%, down from 2.6%.
Its net interest margin was 4.7% for the period, down from 5.1% year-on-year, while basic earnings per share came in at GEL 2.78, and diluted earnings per share totalled GEL 2.72.
Looking at the balance sheet, TBC said its total assets amounted to GEL 23.62bn, up 18.2% over the prior year, while gross loans and advances to customers were up 10.1% at GEL 15.33bn, or by 6.1% on a constant currency basis.
"The management and the board realizes the importance of dividend payments to our shareholders," said chief executive officer Vakhtang Butskhrikidze.
"In terms of the financial year 2020, the board has decided not to recommend the payment of dividends since we still need to build up sufficient capital to meet the National Bank of Georgia's regulatory requirements.
"The improving business environment, coupled with our strong data analytical capabilities and focus on digital, fills me with confidence that in 2021 we will be able to return to our pre-Covid profitability levels, and we will assess the potential for future dividends subject to macroeconomic developments and containment of the Covid-19 pandemic."
Butskhrikidze also reiterated the company's medium term guidance for a return on average equity of above 20%, a cost-to-income ratio below 35%, a dividend pay-out ratio of between 25% and 35%, and loan book annual growth of around 10% to 15%.
At 0837 BST, shares in TBC Bank Group were up 4.09% at 1,120p.