Taylor Wimpey to resume dividend after 'volatile' year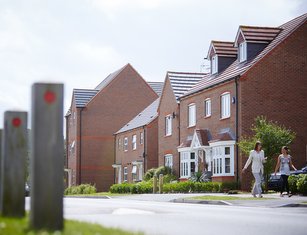 Taylor Wimpey is to resume dividend payouts, the UK housebuilder said on Tuesday, after sales and profits met expectations during an otherwise "unusual and volatile year".
Revenues in the year to 31 December came in at £2.79bn, a 36% fall on the previous year, while operating profits tumbled 65% to £300.3m.
Pre-tax profits were down 69% at £264.4m, while adjusted basic earnings per share were 6.5p, compared to 20.3p in 2019.
Total UK home completions including joint ventures fell 39% to 9,609, after the first national lockdown closed construction sites. The average selling price on private completions rose 6% to £323,000.
Taylor Wimpey said it had been an "unusual and volatile year", with the first half severely impacted by the pandemic but the second half seeing stronger-than-expected sales as the housing market - supported by pent-up demand, low interest rates and the stamp duty holiday - bounced back. As a result, the company's results met market expectations.
Chief executive Pete Redfern said 2020 had been "very challenging" but remained confident looking forward.
He said: "Operating performance has bounced back strongly in the second half of 2020, with build capacity returning to near normal levels and strong sales.
"We are confident in the medium-term performance of the housing market, and therefore accelerated our land purchases from May 2020 as high-quality land became available at attractive rates.
"The UK housing market has been resilient and continues to reinforce our confidence in our outlook. We are a cash generative business with a strong balance sheet, and we are pleased to announce that we will reinstate our ordinary dividend."
Taylor Wimpey, which is proposing a final dividend of 4.14p per share, said the 2021 selling season had started well. As at 21 February 2021, the total order book excluding joint ventures was £2.79bn - compared to £2.58bn a year previously - with a "healthy profile of sales extending into the second quarter and beyond", when the stamp duty holiday is scheduled to end.
The housebuilder also said on Tuesday that it was setting aside £125m to support fire safety improvement works for leaseholders in Taylor Wimpey apartment buildings built over the last 20 years.