Taylor Wimpey points to share buyback after 'excellent' 2021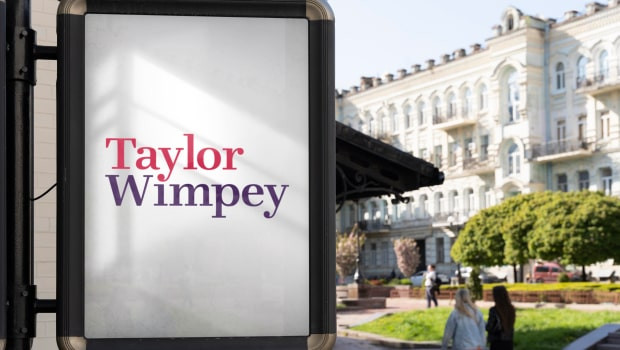 Taylor Wimpey is set to meet its annual targets following an "excellent" year, the housebuilder said on Monday, as it pledged to return excess cash to shareholders.
Updating on trading, the blue chip said total UK home completions including joint ventures increased by 47% in 2021 to 14,087, while average selling prices on private completions increased by 3% to £332,000. The overall average selling price rose to £300,000 from £288,000.
The order book at the year-end was valued at £2.55bn, down on 2020's figure of £2.68bn. But the short-term land-bank stood at 85,000 plots, compared to 77,000 a year previously, while net cash was ahead of expectations at £83.07m, compared to £719.4m a year previously.
Chief executive Pete Redfern said: "We have delivered an excellent performance in 2021 and expect to report full-year results in line with our expectations.
"Market conditions remain supportive and we continue to see strong demand for our homes.
"Looking ahead, we are well-placed to deliver against our targets. The outlook is positive and Taylor Wimpey is particularly well positioned. We maintain a sharp focus on delivering sustainable growth, strong profitability and increased cash returns for shareholders over the long term."
Taylor Wimpey said it would announce the level of excess cash it expects to return to shareholders at the full-year results on 3 Mach. "It is the board's current intention to return this cash by way of a share buyback," it noted.
The property industry has enjoyed a boom during the pandemic. Despite wider economic and supply chain issues, repeated lockdowns and shifts in working habits saw people reconsider housing needs, and demand has surged. But supply remains constrained, pushing house prices higher.
Taylor Wimpey said house price inflation had "fully offset" cost inflation during the year.
Looking to 2022, the firm said the order book was already 47% forward sold. "Despite wider economic uncertainty, forward indicators continue to show good underlying demand for our homes, and pricing remains positive.
"With a strong focus on optimising sales prices, cost, process simplification and other core value drivers, we are confident in achieving our primary performance target to return the business to a 21-22% operating margin."
Richard Hunter, head of markets at Interactive Investor, said: "As many of its competitors hunkered down during the pandemic, the company took the opportunity to go on something of a spending spree with the future in mind, enabled by a capital raise. This has already resulted in 29,000 new plots to its short-term landbank, some of which have been converted across a health balance of large and small sites."
Shares in the firm were ahead 2% as trading got underway at 0815 GMT, at 156.45p.