Syncona revalues holding in Freeline after expanded series C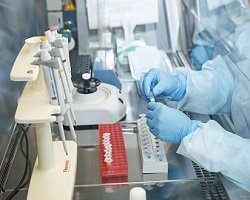 Healthcare investment and development company Syncona announced on Tuesday that Freeline Therapeutics - a biotechnology company focussed on developing curative gene therapies for chronic systemic diseases - has raised a further $80m (£65.09m) from specialist global institutional investors in an expanded series C round.
The FTSE 250 firm said the investors included Novo Holding, Eventide Asset Management, Wellington Management Company, Cowen Healthcare Investments, Acorn Bioventures and Ample Plus Fund.
Including the $40m Syncona invested in the initial series C in December, the expanded funding took the total financing round to $120m.
Following the financing, Syncona said it had revalued its holding to take account of the price of the series C, resulting in a £30.8m uplift - or 4.6p per Syncona share - to its holding value of Freeline.
Syncona said its holding value of Freeline was now £181.5m, with its ownership stake in the business standing at 60%.
The board said the financing would enable Freeline to progress its lead programme in haemophilia B to a pivotal study, begin dose escalation in its second programme in Fabry disease, progress its pipeline of programmes, and continue to develop its "robust" manufacturing platform, including commercial supply capability.
To date, Freeline had reported "highly encouraging" data in its lead programme for the treatment of haemophilia B, and was currently seeking to identify the optimal dose and regimen to move to a pivotal study.
The business had also initiated the first AAV gene therapy clinical trial globally to target Fabry disease, where it presented promising initial data in one patient that AAV gene therapy could deliver "sustained levels" of the α-galactosidase A enzyme (αGLA) from a single infusion.
It explained that the high protein levels delivered in the haemophilia B programme provided "encouragement" that higher αGLA levels could be achievable in Fabry disease, through dose escalation.
Freeline was continuing to develop its pipeline, and had also strengthened its executive team, appointing Theresa Heggie - formerly Head of CEMEA at Alnylam - as chief executive officer, bringing "significant" commercial expertise in rare diseases.
Julie Krop was also appointed chief medical officer, bringing "extensive experience" in guiding clinical stage therapies for rare and complex disorders to registration.
"Freeline's product candidates have significant potential to achieve functional cures for patients across a broad array of systemic diseases and we are very pleased with the progress the company has made to date," said Syncona Investment Management chief investment officer Chris Hollowood.
"We are focused on maximising its ambition to develop gene therapy product candidates and are pleased with the outcome of this funding round which brings in like-minded partners to support the company as it continues to scale and drive multiple programmes through the clinic.
"We are hugely excited about its potential to transform the lives of patients and their families."
Freeline also said on Tuesday that it was set to consider additional capital raising options this year, which could include an initial public offering in the United States.
The company said the timing and the terms of such an additional capital raising had not yet been determined, and would be subject to market conditions and other factors.
At 0831 BST, shares in Syncona were up 3.76% at 248.5p.