Standard Chartered FY slumps 57% as dividends reinstated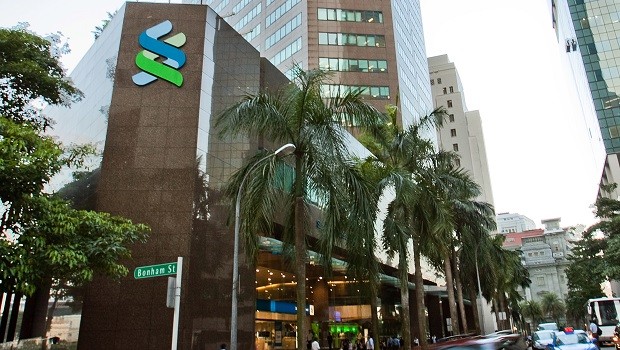 Standard Chartered said annual profits more than halved on bad loan impairments due to the coronavirus pandemic, as it resumed dividend payments and announced a share buyback.
The Asia-focused bank said pre-tax profits fell 57% to $1.61bn, below the $1.85bn average of bank-compiled analyst forecasts. Credit impairments more than doubled to $2.3bn from $900m a year ago.
StanChart declared a 9 cents-per-share dividend and said it would return a further $254m to shareholders via a buyback, the total payout being the maximum permitted under temporary limits set out by the Bank of England last year to protect bank balance sheets.
Net interest margin, the difference between savings and loan rates, fell 31 basis points to 1.31%.
"Improving prospects for Covid-19 vaccines should enable the global economy to transition back to growth through 2021, with pre-pandemic growth rates re-emerging in most of our markets from 2022," StanChart said.
"We believe that our decision to continue investing in the transformation of our business throughout the crisis will enable us to disproportionately benefit from that recovery over time, not least because it will most likely be led by large markets in Asia where we generate two-thirds of our income."
TARGETS 5 - 7% ANNUAL GROWTH FROM NEXT YEAR
StanChart said overall income in 2021 was expected to be similar to 2020 at constant currency given the impact of global interest rate cuts last year, adding that first-half income would be lower than last year.
"Our performance in the opening weeks of this year gives us the confidence that we are on the right track with strong performances in our less interest rate-sensitive financial markets and wealth management businesses."
The bank said it expected income to return to 5-7% growth per annum from 2022.
"We expect pressure on credit impairments to reduce this year compared with 2020," StanChart said.
Richard Hunter, head of markets at interactive investor said commented the company had brought the curtain down on the UK banks' reporting season "with something of a whimper rather than a bang".
"The pandemic effect and political tension in Hong Kong, let alone the brittle relationship between China and the US, have halted progress and threaten to underline Standard's recent status as a 'jam tomorrow' stock," he said.
"As with its peers, Standard has seen the benefit of the vaccine announcement in November but not to the extent of rescuing its yearly performance. The shares have risen 33% in the last three months but remain down by 16% over the last year, which compares to a decline of 5% for the wider FTSE100."
"Despite the inevitable difficulties ahead economically and politically, investors are looking through to the prospects which a strong Asian focus might bring, with the market consensus of the shares still resolute at a 'buy'."
Nicholas Hyett, equity analyst at Hargreaves Lansdown said that while the results had disappointed the market, compared with more UK-focused rivals such as Barclays and Lloyds "the performance is remarkably strong".
"It's testament to the robust recovery we've seen in the group's Asian markets, which have far outpaced European economies," he said.
"The big question for some time has been around Standard Chartered's ability to grow. Income is forecast to remain flat next year, which won't do much to settle nerves about how a bank in such high growth markets can stubbornly refuse to deliver income growth, but beyond that a 5-7% increase in income a year would do very nicely."
"Combine steady income growth with Standard Chartered's 10% return on equity target and a commitment to return surplus capital to shareholders and the result would be an attractive and growing dividend. That's been the promise for some years though, and so far it remains just a promise."