Softcat sees FY outturn 'slightly ahead' after H1 outperformance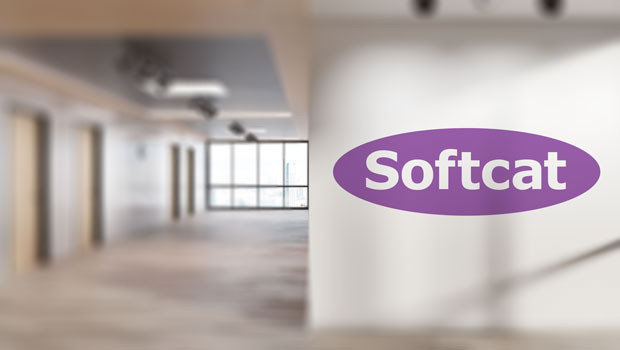 Softcat shares surged on Tuesday after the IT infrastructure products provider said it expects the outturn for the full year to be "slightly ahead" of previous estimates following outperformance in the first half.
In an update for the six months to the end of January 2023, the company said that gross profit - its key measure of income - grew 17.9% to £177.1m, with demand broad-based across all customer segments and areas of technology.
Softcat said gross profit was ahead of expectations "despite a very challenging set of comparative numbers which included several one-off, high value transactions with a major customer".
Operating profit was also ahead of expectations, down 1.7% to £63.1m.
Group revenues fell 11.3% to £512.4m. Softcat attributed the drop to a reduction in hardware income from the prior period's largest customer.
Chief executive Graeme Watt said: "I am pleased to be reporting positive numbers across a whole range of key performance indicators in a period that has exceeded expectations.
"We have increased our headcount by 21.1% on the prior period to meet this demand and underpin future growth, and we have grown our customer base by 3.3% which is the fastest rate for three years. We have reported strong cash conversion in the period, continue to be debt free, and are pleased to be declaring an interim dividend of 8.0p, up 9.6% on the prior year. All this has been achieved in an uncertain environment."
The company said that while there is still a lot to do in the second half and the economic environment remains uncertain, the full-year outturn is set to be "slightly ahead" of previous estimates thanks to its outperformance in the first half.
At 0845 BST, the shares were up 6% at 1,223p.