Severn Trent turns in 'robust' first-half performance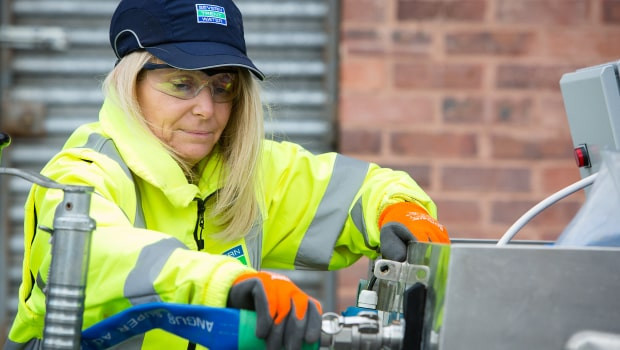 Severn Trent announced on Tuesday morning that it was guiding for a double-digit real return on regulated equity for the full 2023 financial year, after a "robust" first half.
The FTSE 100 water company said it was now expecting outcome delivery incentives of at least £50m for the 12 months through March, with total expenditure in line with its allowance and a "strong" financing outperformance.
It reported first-half group profit before interest and tax of £261.7m, up 2.4% year-on-year, reflecting a £103.6m rise in group turnover to £1.06bn, as well as "strong" cost control.
The board hiked its property profit before interest and tax guidance by a further £50m, with planned PBIT from sales of surplus land now £150m between 2017 and 2032.
Adjusted basic earnings per share fell to 29.9p, however, from 54p, which the firm said reflected profit before interest and tax growth offset by the impact of inflation on index-linked debt.
Basic earnings per share came in at 31.4p for the first half, swinging from a loss of 73.0p in the first six months of the 2021 financial year.
Severn Trent said it had agreed its 2022 pension valuation, with contributions unchanged and an IAS19 deficit of £142.6m.
The directors declared an interim dividend of 42.73p, in line with its asset management plan policy, to be paid on 11 January.
"The first half of this year has shown the benefits of the sustained investment we've made over many years in our people, region and environment," said chief executive officer Liv Garfield.
"We have delivered a robust financial performance leaving us well positioned to support our customers, invest for the long term, and support future growth.
"As well as delivering on our operational and environmental commitments, with around 85% of regulatory measures meeting or exceeding targets, we're also committed to making a long-lasting positive impact in the communities we serve."
Garfield said the company was "proud" to launch a new 10-year strategy to address "some of the underlying causes of poverty" in the firm's region.
"This builds on the investment we're already making through our £10m community fund and the support we offer to 315,000 customers through our affordability schemes, including discounts of up to 90% off their water bills."
At 9803 GMT, shares in Severn Trent were up 0.51% at 2,772p.
Reporting by Josh White for Sharecast.com.