Segro raises interim dividend after solid first-half growth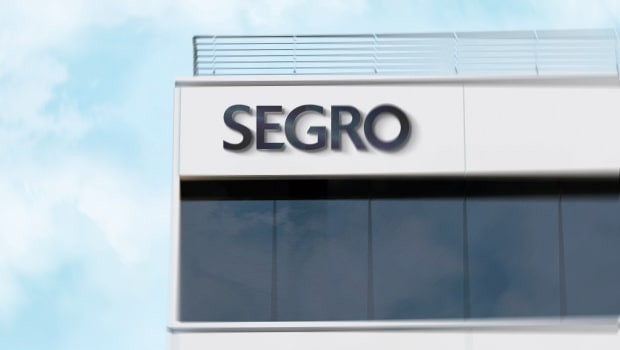 Segro reported an adjusted pre-tax profit of £216m in its first half on Thursday, up 29% year-on-year, while adjusted earnings per share advanced 22% to 16.9p, including 1.3p relating to performance fees from the SELP joint venture.
The FTSE 100 company said its adjusted net asset value per share expanded 10% to 1,249p, driven by a 7.2% increase in the valuation of the portfolio, reflecting asset management initiatives, a 5.9% estimated rental value growth, and profitable development activity.
It said its "customer focus" and "active" portfolio management, supported by "strong and diverse" occupier demand, generated £55m of new headline rent commitments during the six months ended 30 June.
That included £28m of new pre-let agreements, and a 24% average reletting spread on rent reviews and renewals.
Further growth was also reported in the development pipeline, with 1.3 million square metres of projects under construction or in advanced pre-let discussions, equating to £118m of potential rent, up from £82m at the end of December, of which 70% was associated with pre-lets, "substantially" de-risking the 2022-2023 pipeline.
The company gained £2.1bn of new financing in the half-year, including a €1.15bn green bond and a €225m US private placement, helping to maintain its long-term debt structure, and providing "high visibility" on funding costs, with no significant debt maturities until 2026.
Segro noted that 94% of its debt was fixed or capped.
Its board said the balance sheet was positioned to support further development-led growth, with access to more than £2bn of available liquidity including the US private placement debt signed in July, and a "low level" of gearing reflected in a loan-to-value ratio of 23% as at 30 June, in line with what it reported at the end of December.
The interim dividend was hiked by 9% to 8.1p per share, in line with Segro's "usual practice" of setting the interim dividend at one-third of the previous full-year dividend.
"Segro has delivered both operationally and financially in the first half of 2022," said chief executive David Sleath.
"Our prime portfolio of modern, sustainable warehouses focused on key urban markets and logistics corridors across the UK and Europe is in high demand from a diverse range of customers.
"This strong demand combined with low levels of supply in our key markets, particularly in the urban locations where two-thirds of our assets are located, has helped us to increase rents, capture reversion and indexation, and expand our development programme - resulting in inflation-beating earnings growth."
Sleath said Segro's focus on maintaining close relationships with customers, its "well-located" land bank, and its "prudent" capital structure provided "significant" opportunities for further profitable growth arising from structural changes in the markets of its customers.
"We are confident that by continuing to follow our well-proven strategy of disciplined capital allocation and operational excellence, with 'Responsible Segro' at its core, we will be able to navigate the more challenging current macroeconomic environment and drive further sustainable compound growth in rental income, earnings and dividends over the coming years."
At 1016 BST, shares in Segro were down 0.1% at 1,034p.
Reporting by Josh White at Sharecast.com.