Royal Mail transformation behind schedule, UK letter outlook 'challenging'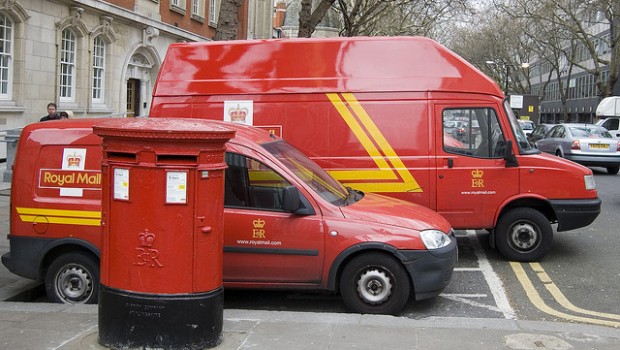 Royal Mail shares tanked on Thursday after the company said its transformation programme was behind schedule, cut its interim dividend and warned of a "challenging" outlook for the letters business in the UK.
In the half year to 29 September, reported pre-tax profit rose to £173m from £33m the year before as revenue ticked up 5.1% to £5.2bn, with the company noting its best UK revenue performance in five years. The group said strong growth in parcel revenues offset a drop in letter revenue.
On an adjusted basis, however, pre-tax profit fell to £146m from £183m and basic earnings per share slipped to 11.1p from 13.6p. In addition, Royal Mail cut its interim dividend to 7.5p a share from 8.0p in 2018.
Despite a strong performance and the upcoming benefit of the general election, the company said the outlook for its UK letters business was "challenging", with people posting fewer letters and receiving more parcels.
"Lower than anticipated GDP and lower GDP forecasts for 2020-21, together with business uncertainty, are expected to have an impact on addressed letter volumes," it said. For 2019-20, it now expects addressed letter volumes excluding elections to decline between 7% and 9%, with a 6% to 8% fall expected for 2020-21.
The group also said on Thursday that its transformation was behind schedule.
Chief executive officer Rico Back said: "We are investing more because of the industrial relations environment, the General Election and Christmas, to underpin our quality of service at this key time. This is likely to impact our productivity for the remainder of the year.
"When combined, revenue and cost headwinds could possibly result in a break-even or loss-making position for the UK business in 2020-21."
At 0845 GMT, the shares were down 16% at 194.19p.
Richard Hunter, head of markets at Interactive Investor, said: "Royal Mail has again delivered a mixed bag of numbers, as the increasing pressure of a letters market in terminal decline continues to bite.
"The group admits that its transformation plan is behind schedule. Yet the reduction in the letters and cards market, largely offset by the explosion of parcel deliveries arising from online shopping, is hardly a new phenomenon. The fact that the addressed letters part of the business is expected to decline at a higher rate of between 7% and 9% this year is proof if it were needed that Royal Mail's business mix needs to change rapidly. Revenues should be boosted by the Christmas post, including General Election flyers and the like, but the group overall retains a large exposure to traditional mail."