Retailers warn over policing on mask mandates in England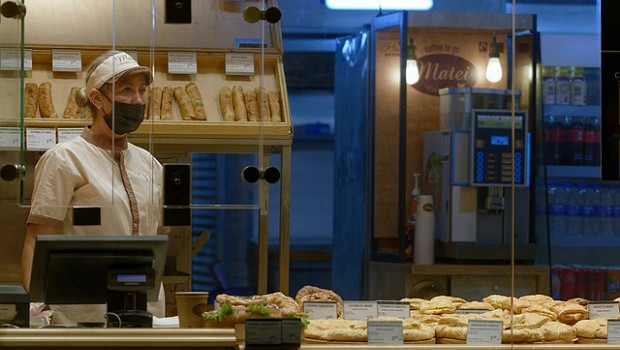 UK retailers warned on Monday they did not expect to police the reintroduction of mandatory mask wearing in shops in England from Tuesday over fears of abuse from customers who refuse to comply.
Company bosses and industry bodies all expressed reservations about the ability to enforce the mandate, which was issued by the government in response to the emergence of the Southern African Omicron variant of Covid 19.
Full guidance on the new rules was not expected to be published until Monday afternoon, including whether there will be legal penalties for those who do not comply.
Iceland grocery chain boss Richard Walker said he was "supportive" of the change in mask policy, but warned: "My store colleagues can't be expected to police those who refuse."
The Association of Convenience Stores, which represents independent shopkeepers, said its members were concerned about potential abuse when asking customers to mask up.
"The first response from retailers was that this would lead to a lot of abuse from people refusing to wear face coverings. There could be an issue as there is a bit more of a backlash around Covid regulations than there has been in the past," the Guardian cited spokesperson Chris Noice as saying.
"We know from previous lockdowns that reminding people about face coverings and social distancing is a big trigger for abuse and [store workers] are hesitant about challenging people."
British Retail Consortium chief executive Helen Dickinson said: "It is vital that we do not place hardworking retail staff in harm's way, and enforcement of face coverings must remain the duty of the authorities."
Mike Cherry, the national chair of the Federation of Small Businesses, added: "It's vital that [shop owners] feel supported by government at every level and by the police, if necessary."
"We do hope that customers will recognise, like they did during previous restrictions, the government's new guidelines when visiting their local independent shops. We're urging shoppers to make sure they show respect to the shop owners and staff of every business they go to."
Shopworkers' union, Usdaw, said the government had been wrong to have eased the rules on protective measures in shops back in July when it told the public they could decide for themselves when and where to wear a face covering.
Union general-secretary Paddy Lillis said the "flip-flopping on basic and sensible Covid measures and the different rules across the UK create confusion, reduce compliance and can lead to conflict".