Restaurant Group profits dip but beat expectations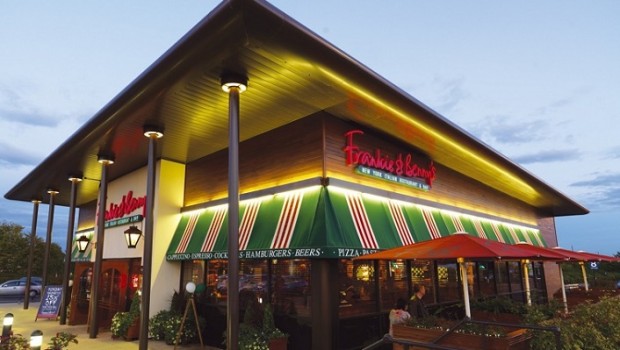 Restaurant Group shares surged on Friday as its full-year pre-tax profit came in ahead of expectations despite an 8% drop, and the company reported an uptick in total sales.
For the year to 30 December 2018, adjusted pre-tax profit fell to £53.2m from £57.8m, but this was better than the £51m analysts had pencilled in. Total sales edged up 1% to £686m, while like-for-like sales declined 2%.
The LFL sales drop was put down to the annualisation of the investments made in price and proposition across the leisure brands in 2017, along with the impact of adverse weather and the World Cup in 2018, which were partially offset by a strong LFL performance from the pubs and concessions businesses.
Restaurant Group, which owns Garfunkel's and Frankie & Benny's, booked an exceptional pre-tax charge of £39.2m which includes among other things an exceptional charge of £14.8m in relation to the acquisitions of Wagamama, Food and Fuel and Ribble Valley Inns, and an exceptional charge of £0.5m recognised as a result of the refinancing which took place to fund Wagamama deal.
The company had net debt at year-end of £291.1m, up from £23.1m the year before but around £40m better than expected.
Wagamana said it delivered like-for-like sales growth since the World Cup, with its pubs business continuing to consistently trade ahead of the pub restaurant sector and its concessions business trading "strongly".
Meanwhile, the leisure business exhibited improved like-for-like sales momentum through 2018.
The group said current trading is in line with its expectations, with LFL sales up 2.8% in the 10 weeks to 10 March.
Chief executive officer Andy McCue said: "We have made significant progress in 2018, acquiring a differentiated, high growth business in Wagamama, opening a record number of new sites in both our pubs and concessions businesses, and driving improved like-for-like sales momentum in the Leisure business throughout 2018.
"We now have a business that is orientated strongly towards growth and we continue to focus on delivering shareholder value."
At 0855 GMT, the shares were up 8.6% to 137.44p.