Record hikes dividends after year of solid growth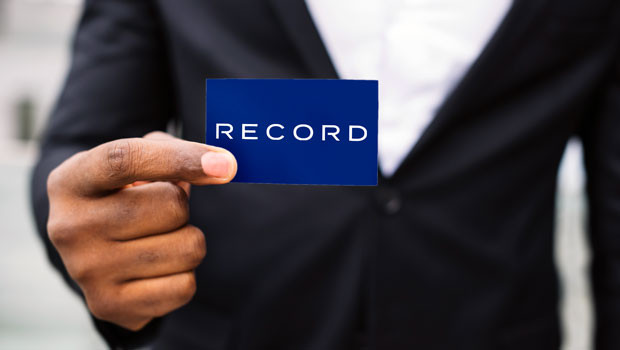 Specialist currency and derivatives manager Record reported a 38% increase in revenue to £35.1m in its final results on Tuesday, amid "material growth" in management fees across all of its current product lines.
The London-listed firm said its profit before tax was ahead 76% for the 12 months ended 31 March, to £10.9m, while its operating profit margin expanded by seven percentage points to 31%.
Its board proposed a 57% increase in the final ordinary dividend to 1.8p per share, making for a total ordinary dividend of 3.6p per share for the year, up from 2.3p in the 2021 financial year.
The directors also proposed a 104% increase in the special dividend for the year, to 0.92p per share.
"We remain focussed on building upon this momentum with further diversification of products and revenue streams as we move from a pure currency management specialist to having a broader offering in the alternative asset management space," said chief executive officer Leslie Hill.
"Whilst our core skills in currency and derivatives will continue to provide an important and robust source of hedging revenue, our focus on innovating and collaborating on higher revenue-margin products will continue to increase our profitability, as evidenced this year by the increase in our operating margin.
"Our approach of partnering with clients and with like minded specialists in alternative assets to collaborate on new and innovative products has already provided results in the form of the successful launch of the Record EM Sustainable Finance Fund during the year."
Hill said the firm was "confident" the approach would provide opportunities to develop "relevant and well-rewarded" products, to satisfy specific client demand.
"Notwithstanding a particularly challenging environment over the last two years brought about by the pandemic and more recently the war in Ukraine, the group has not changed its dividend policy, has continued to pay dividends, to be self-financing, cash-generative and completely independent with no external debt.
"We remain confident that the strategy will continue to deliver against its long-term goal of achieving material growth and a stronger and more diversified business.
"Against this backdrop, the board has recommended payment of an increased final ordinary dividend and also a special dividend in line with the group's capital and dividend policy."
At 1130 BST, shares in Record were up 8.36% at 71.52p.
Reporting by Josh White at Sharecast.com.