Reckitt Benckiser swings to reported losses after Mead Johnson impairment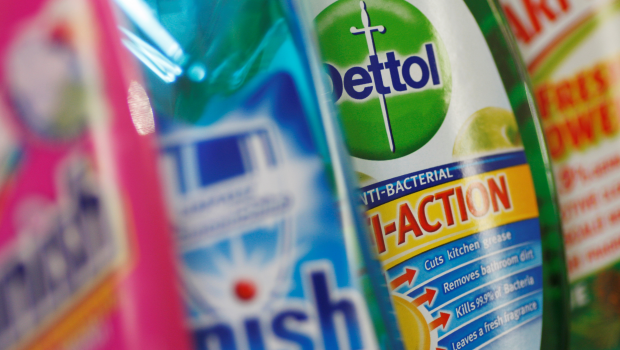 Reckitt Benckiser reported a 2% improvement in net revenue from continuing operations on Thursday, to £12.85bn, although its growth at constant exchange rates was 0.8% and like-for-like growth also stood at 0.8%.
The FTSE 100 consumer products giant said swung to losses on a reported basis, with its operating loss coming in at £1.95bn, down 163.9% year-on-year, while its reported net loss was 228.7% lower than 2018's income at £2.79bn.
On an adjusted basis, its operating profit was down 0.1% for the year ended 31 December at £3.37bn, and its adjusted net income was 2.7% firmer at £2.47bn.
Reported diluted losses per share came in at 393p, down 228.8%, while its adjusted diluted earnings per share were ahead 2.8% at 349p.
Reckitt Benckiser said its full-year adjusted operating margin was 26.2%, which was a 50 basis point decline, said to have been driven by a 60 basis point increase in brand equity investment.
The impairment of Mead Johnson Nutrition had a major impact on the year's numbers, with the board reporting a £5.04bn impairment of goodwill in respect of the Mead Johnson acquisition.
It declared a full-year dividend of 174.6p, up from 170.7p, with the board recommending a final dividend of 101.6p per share, up from 100.2p.
Free cash flow generation totalled £2.15bn for the year, up from £2.01bn, which reflected cash conversion of 87%, which was held back by exceptional items expenditure.
Looking at its strategic review, Reckitt Benckiser noted that it had a "strong presence" in three attractive categories and growth markets.
It saw mid-single digit growth in the medium term, led by penetration, market share improvement, expansion to new places and adjacencies, a "strong presence" in e-commerce, and a global presence, particularly in key emerging markets.
Reckitt Benckiser said its brands were "strong", "anchored in purpose", and "well supported", with growth there underpinned by strong number one or number two market positions in most categories.
It said its recent performance issues were "executional, not structural", and were driven primarily by significant recent disruption and change, combined with under-investment in capabilities across supply and sales.
The company's future structure would benefit from both scale and focus, with the organisation to centre around three category global business units - hygiene, health and nutrition, with the greater China geography to have a "unique focus" due to its long-term importance.
A three phase plan to rejuvenate Reckitt Benckiser and rebuild its strong earnings model was announced, which the board said would lead to mid-single digit top-line growth, margins in the mid-20s, and earnings per share growth between 7% and 9%.
That rejuvenation would be funded by a temporary margin reduction and an "enhanced" multi-year productivity programme.
The three-year programme of investment would drive growth initiatives and improvements to core capabilities, Reckitt Benckiser said.
Looking ahead, the company said 2020 would be a "transitional year", with work to "rejuvenate" the company to accelerate growth and create long-term shareholder value set to take place.
The directors said they expected higher level like-for-like revenue growth than last year, with steady progress toward its medium-term target.
They said the year was off to "a strong start", although the environment remained uncertain due to the evolving impact of the Covid-19 coronavirus outbreak.
Its 2020 adjusted operating margin was expected to reflect 100 basis points of headwinds and 150 basis points from recurring investment, with additional finite-life transformation costs of around 100 basis points in 2020 and 2021 only.
"We ended 2019 broadly in line with our expectations for net revenue growth and adjusted operating profit from October, as our hygiene business delivered another stable performance," said chief executive officer Laxman Narasimhan.
"Health remained weak from a net revenue perspective, but consumption and market share trends are encouraging.
"We now look forward to a new decade."
Narasimhan said that while recent years had been "difficult", he believed in the company's ability to restore performance credibility, and over time, outperform.
Reckitt Benckiser's strategy would be to play in the three "attractive spaces" of hygiene, health and nutrition, he explained, with the company set to invest accordingly, to leverage both the significant scale it had in key markets, as well as the benefits of focus which had already been proven in 'hygiene home'.
"In addition to doubling down on our focus on penetration and category creation, we will expand where we play, by increasing our reach from 75 core category market units to 100 and build on our proven strengths in digital and e-commerce - a critical capability for the future.
"We will elevate our focus on Greater China and manage it as an integrated business region, and also elevate e-Commerce in a similar way, to ensure we deliver on their significant growth potential."
Narasimhan said the firm had started a journey of three phases - first to stabilise and perform, then perform and build, and finally, outperform.
He said the company would create a "strong company" which could consistently generate mid-single digit organic revenue growth, 7% to 9% earnings per share growth, and strong cash conversion.
"We have a clear plan to invest £2bn in our business over the next three years to make this happen.
"Specifically, in 2020 we will increase investment behind our digital capability, in-market competitiveness and operational resilience, particularly in customer service, as well as innovations, as we align around our new organisation.
"While we are growing faster than last year - and in some areas, significantly faster - we are targeting a higher level of like-for-like net revenue growth than we achieved in 2019, reflecting some of the uncertainty around the impact of the Covid-19."
Reckitt's recurring investment of around £200m, combined with a step up in productivity of £1.3bn over three years, would build a more stable and sustainable growth business, Narasimhan said.
"RB operates in strong, structural growth categories and has an outstanding collection of trusted, market leading brands.
"When combined with an organisation structure that leverages both its category focus with its investment in capabilities at scale, RB is positioned well for faster growth and significant value creation as we look towards the new decade."
At 0849 GMT, shares in Reckitt Benckiser were down 1.23% at 6,024p.