Reckitt Benckiser revises growth forecasts down after slow first half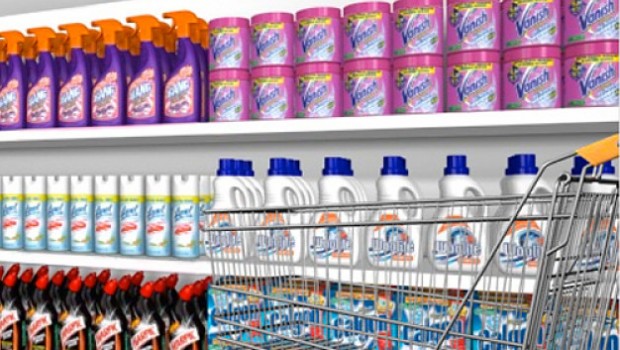 Reckitt Benckiser reported a 2% improvement in its net revenue from continuing operations on its half-year results on Tuesday, to £6.24bn, or 1% at constant currency.
The FTSE 100 consumer products giant said its reported operating profit from continuing operations was 9% higher year-on-year for the six months ended 30 June, at £1.41bn, while its adjusted operating profit was ahead 2% at £1.48bn.
Its reported net income rose 13% to £979m, and its adjusted net income came in 4% higher at £1.03bn, while its reported diluted earnings per share were up 13% at 137.9p.
The company's adjusted diluted earnings per share from continuing operations were 4% improved at 145.4p.
Looking at Reckitt Benckiser's total operations, including its discontinued businesses, reported net income was down 87% at £112m, while adjusted net income was ahead 4% at £1.03bn.
The company said like-for-like performance in the second quarter specifically was flat, with volume down 3%, while health declined by 1%.
Its 'hygiene home' operations saw continued consistent delivery, with growth of 3%.
In health, the second quarter like-for-like decline was 1%, with its infant and child nutrition segment flat thanks to a slowdown in market growth in China.
Over-the-counter health was ahead 1%, with stabilisation seen in market share for its 'Mucinex' range, while other health weak due to its 'Scholl' brand, as well as a slowing for disinfectant range 'Dettol' and sexual health brand 'Durex'.
Second quarter like-for-like growth in hygiene home totalled 3%, with the board describing another consistent quarter of broad-based growth across brands and geographies.
Looking at its so-called 'RB 2.0' strategy, Reckitt said the creation of two structurally-independent business units remained on track for mid-2020.
The company's adjusted operating margin decreased 10 basis points to 23.6%, with the board declaring an interim dividend of 73.0p per share - up 4% year-on-year.
It said it had reduced its uncertainty thanks to a settlement agreed with the US Department of Justice for $1.4bn, in respect of matters related to Indivior, and the appointment of a new CEO.
The company revised its full-year like-for-like net revenue growth target to between 2% and 3%, from a range of 3% to 4%, to reflect the slow start to the year and the improving trends for the second half.
It said there was no change to its adjusted operating margin expectations.
"Our like-for-like performance in the first half was 1%, somewhat below our expectations," said chief executive officer Rakesh Kapoor.
"Hygiene home delivered another quarter of consistent top line growth but progress in health in the second quarter was disappointing.
"We have now been operating in RB 2.0 for 18 months and have made some important achievements."
Hygiene home had been "unleashed", Kapoor said, and was delivering consistently.
"But on our journey to be a world leader in consumer health, we have work to do to deliver consistent financial performance.
"However, we believe that much of this is behind us and strong plans are in place to restore growth, including an exciting innovation pipeline such as Mucinex Night Relief and Enfa Grass Fed.
"We are further stepping up our investment in BEI and medical marketing to drive our growth."
As a result, Kapoor said the board and management team expected the second half to be back to the firm's "more normal" level of growth.
He added that the firm's work to create two structurally-independent business units was continuing to progress well, and remained on track for completion around mid-2020.
"With the slow start to the year, and the turnaround in health still work in progress, we are revising our 2019 net revenue target to 2% to 3% like-for-like growth.
"Our target of maintaining adjusted operating margins remains unchanged."
Chris Sinclair, Reckitt Benckiser's chairman, added that the company made "good progress" during the quarter in reducing uncertainty, with the appointment of Laxman Narasimhan as the new CEO, and drawing a line under Indivior-related matters.
"On behalf of the board I would like to thank Rakesh for his outstanding contribution to RB over his 32 years at the company, eight of which were as CEO.
"During his tenure he has transformed RB from a household cleaning company to a global leader in consumer health.
"He has lived, and indeed improved, RB's values whilst maintaining the culture of entrepreneurship and ownership."
Sinclaur said the company still had work to do in restoring growth and outperformance, which he explained was both the board's and Narasimhan's key priority.
"However, the future opportunities created by RB 2.0 have never been more exciting."