Primark says lockdown sales loss could exceed £1bn
Owner AB Foods forecasts lower full-year profits
Company hurt by lack of online presence, say analysts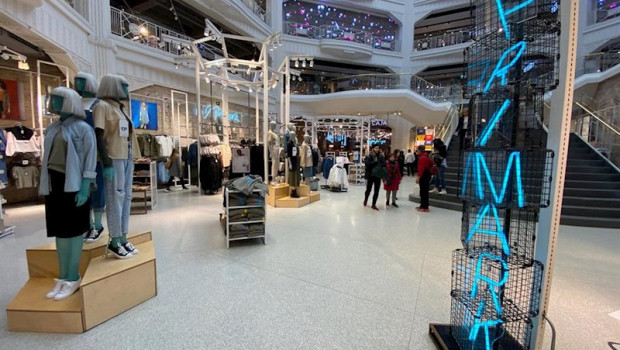 Primark owner AB Foods said sales losses from store closures could rise to £1.05bn under new restrictions to control the spread of Covid-19.
The cut-price retailer had last month warned it would lose £650m in sales. Primark takes a heavier hit from store closures than some rivals because it does not sell goods online.
Sales losses in November and December came to £540m, while retail revenue fell 30% to £2.031bn. The revised sales loss figures are based on the assumption that stores remain closed until February 27 after the UK government imposed a full lockdown at the start of January.
AB Foods said this and similar measures across Europe would hit about 76% of its retail selling space, with all of its 190 UK shops closed, plus a further 115 across markets such as Germany, Ireland and Spain.
"We now expect full year sales and adjusted operating profit for Primark to be somewhat lower than last year. We will continue to expand retail selling space," the company said on Thursday. Primark made a profit of £362m last financial year.
A 14% like-for-like decline in Primark sales while stores remained open was "strong", given a "significant decline" in commuting and tourism footfall in city centre shops, the company said. Sales at out-of-town retail park locations were higher than the year before, but shopping centres and regional high streets suffered as people were wary of congregating during the pandemic.
Unsold Primark autumn and winter clothing stock worth £200m will be stored and put back on sale later this year. AB Foods said it still expects to broadly break even in the first half because of cost cuts, compared with an operating profit of £441m a year ago.
The Primark losses were offset by AB Foods grocery, sugar and agriculture divisions, all of which recorded rises during the period. Total group revenue fell 13% compared with the same period last year to £4.8bn.
Sugar revenue was 6% ahead of last year on a constant currency basis, driven primarily by higher average sugar prices for British Sugar, combined with record bioethanol prices in recent months, and higher sugar prices at its Illovo operation in Malawi.
"Operating profits are significantly ahead year-to-date. Our expectation for the full year is unchanged, with operating profits well ahead," the company said.
Grocery revenue increased 7%, with strong growth in the company's Twinings tea products and Ovaltine drink.
UK grocery sales were boosted buy international customers stocking up ahead of the deadline for the end of the Brexit transition period and continued higher volumes in retail as people spent more time at home during lockdown.
Brexit had not caused any material disruption to its supply chains, AB Foods added.
Susannah Streeter, markets analyst, at Hargreaves Lansdown said the lack of an online presence was hurting Primark, which "used to be the jewel in the crown for Associated British Foods, but ... now more like a thorn in its side".
She compared the company to fast fashion rivals ASOS and Boohoo, both of which have reporting surging sales, and said Primark has been "resting on its laurels and its huge fan base of shoppers,".
"It's unclear when stores will be able to reopen and loyal customers who may have held out on purchases waiting for business as usual to resume, may be tempted to test the water with rivals online. If restrictions remain in place past February, Primark's current estimates of sales losses could deteriorate further," she said.
"Whether this shock to the system will lead the retailer to re-visit an e-commerce trial remains in question. The high cost of returns are thought to be one of the reasons its resisted making the investment, so far. But at ASOS returns have fallen during the pandemic. The way fashion followers shop has changed dramatically over recent years, and Primark now risks finding itself behind the curve.''