Pets at Home upgrades full-year profit expectations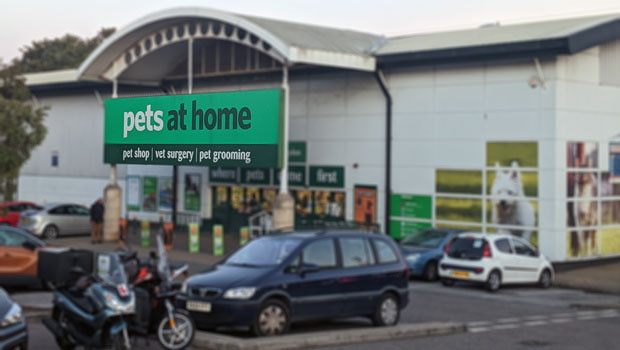 Pets at Home upgraded its full-year profit expectations on Wednesday following "continued growth momentum" in the third quarter.
In an update for the 12 weeks to 30 December 2021, the company said total group revenue grew 5.8% to £319.4m, with group like-for-like revenue up 8.7%, or 28.1% higher on a two-year basis.
Retail revenue rose 9.8%, with LFL revenue up 9%, while store LFL revenue was 7.4% higher. This reflected "continued strong volume growth across key categories and channels and ongoing pet humanisation and premiumisation supporting record sell-through of seasonal ranges".
Meanwhile, the vet business saw revenue growth of 4% during the period.
With strong continued momentum into its final quarter, Pets now expects FY22 group underlying pre-tax profit to be at least £140m. This compares to analyst expectations of between £134m and £137m.
Pets at Home did also sound a note of caution over inflationary pressures, however. "We, like many others, are witnessing a number of inflationary pressures across the supply chain," it said.
"While we are not immune to these challenges, we are proactively mitigating them through a series of planned initiatives targeting rent reductions, procurement savings and operational efficiencies across our business, and we continue to work closely with our supplier base to achieve the operational and purchasing synergies that enable us to maintain our competitive price index."
Chief executive officer Peter Pritchard said: "Our unique, omnichannel pet care strategy continues to deliver strong revenue growth, reflecting continued momentum in customer acquisition, engagement and spend as the benefits of our ongoing investment in capacity and capability really start to deliver.
"We are firmly on track to report a record year of sales and profit growth, and I am incredibly grateful to all of our fantastic colleagues and partners across the group for their hard work and commitment to helping us become the best pet care business in the world."
At 0830 GMT, the shares were up 2.8% at 429.80p.
Matt Britzman, equity analyst at Hargreaves Lansdown, said: "As our pets take centre stage, there is a continuation of so called 'pet humanisation' with owners passing their own health and food principles onto their pets - even going as far as having their own social media following. That's more opportunity for those in the business of servicing - it's often the more premium brands that cater for these specific needs, giving a welcomed leg up to sales and margins.
"There are some hurdles the group needs to overcome, inflation being called out in the recent update, but the groups got out ahead and a string of planned cost cutting and efficiency initiatives are keeping that in check for now. That leaves the overall picture looking positive, the online service is progressing nicely with over a third of online sales being serviced in store with click-and-collect, and the VIP initiative continues to grow - leaving plenty of cross selling potential with the vet and grooming services. This subscription model could also help PETS stay more resilient in the face of rising inflation, with repeat custom becoming ingrained in the business. There's a lot to like and the groups trading someway above its long term average price/earnings valuation - so pressures on to keep the good news coming."