Persimmon shares fall after warning on falling demand, sales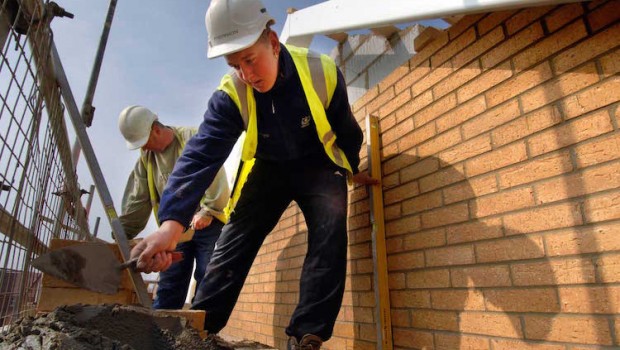 UK housebuilder Persimmon warned of a hit to margins due to weaker demand as the cost-of-living crisis forced customers to delay purchases in the face of surging mortgage interest rates.
The company on Tuesday said cancellation rates had risen to 28% from 21% in the last six weeks after the government's disastrous mini budget - which saw thousands of mortgage offers pulled from the market. Shares in the company fell 7%.
"Rising interest rates and broader economic uncertainty are clearly impacting mortgage lending and customer behaviour," said chief executive.
It added that the "uniquely disruptive political conditions and deteriorating economic outlook since September" had resulted in the average net private weekly sales rate per outlet falling to 0.48 over the past six weeks of its latest period of July 1 – November 7. Overall rates for the full period fell to 0.60 from 0.78 a year earlier.
Average selling price for private reservations over the same period fell by around 2% compared with the 12 weeks commencing 1 July.
The company completed 9,974 homes in the five months to November 6, down from 10,728 a year earlier, and stuck to its forecast of between 14,500 and 15,000 completions for the year as a whole, despite the rise in cancellations.
However, land purchases were being cut back with a move to a "highly selective approach … as we navigate the uncertain outlook for the UK housing market". Land additions in 2023 were forecast to be "significantly lower compared with 2022".
Persimmon did not provide guidance for 2023 given the recent and rapid change in market conditions. "Our current expectation is for fewer legal completions than in 2022 and this together with a deterioration in average selling prices will have an impact on 2023 margins," it said.
The trading update comes as lenders Nationwide and Halifax reported a fall in property prices.
Nationwide said property values fell by 0.9% last month, the first monthly fall in more than a year, as the Liz Truss government's mini-budget of £45bn in unfunded tax cuts triggered financial market turmoil and pushed mortgage rates sharply higher. Halifax reported a 0.4% fall in house prices in October.
Persimmon also increased building safety provisions to £350m to meet regulations introduced after the Grenfell tower fire in 2017 which killed 72 people.
Derren Nathan, head of equity research at Hargreaves Lansdown, said: "It feels like reality is starting to catch up with the housebuilders. Persimmon looks on track to make good on its promises for 2022, but this could still be at risk if cancellation rates continue to worsen."
"Higher interest rates and economic uncertainty are weighing on both mortgage availability and customer behaviour. It has been riding the storm of late, managing to increase build rates before the market turned and pass on prices to its customers."
"In 2023 prices are likely to come back, and if inflation keeps on going the way it is, that's going to be a double hit to margins. Persimmon has more protection than some, with better margins than many of its peers and a strong value offering to its customers."
Reporting by Frank Prenesti for Sharecast.com