Persimmon profits fall, maintains completion guidance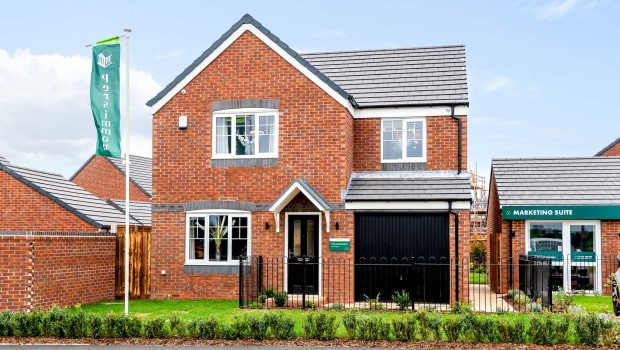 Housebuilder Persimmon posted a fall in interim profits on Wednesday, but reiterated completion guidance and said price rises were offsetting cost inflation.
The company said pre-tax profit for the six months to June 30 fell to £439.7 from £480m. Total revenue fell to £1.68bn from £1.84bn, while completions fell to 6,652 from 7,406 against a strong comparator last year when demand for larger homes surged during the Covid pandemic.
Guidance of 14,500-15,000 completions for the full year was maintained as Persimmon said demand remained "strong", and forward-sales rates at 90%.
The average selling price for a new home built by the company rose by £9,400 year-on-year, to almost £246,000 during the half. Private sales fell 11% in the first seven weeks of the second half, compared with the previous year, when the end of Covid lockdowns led to increased demand, although the figure was 8% higher compared to pre-pandemic levels.
Persimmon said "sales price inflation" was "currently mitigating the cost inflation the industry is experiencing", which it said was "around 8% to 10%".
"We are mindful of the scope for further interest rate raises as well as the broader economic challenges recently set out by the governor of the Bank of England, alongside the wider industry challenges including the withdrawal of Help to Buy," said chief executive Dean Finch.
Richard Hunter at Interactive Investor said Persimmon's previous decision to bring some of the building production in-house "is looking like an increasingly smart move in insulating the group from inflationary and supply chain issues".
"Wider industry concerns have hampered the sector, and the 36% decline in Persimmon's share price over the last year is in stark contrast to the wider FTSE100, which has posted a gain of 5%. Even so, with such pressure in evidence, the shares inevitably look increasingly cheap on a historical basis and the market consensus of the shares as a buy reflects the apparent disparity."
AJ Bell analyst Danni Hewson said inflationary pressures were underpinning market caution on the outlook for the company's shares.
"For some time Persimmon, and other housebuilders, have been running very fast to escape pressure on their margins. Cranking back into gear rapidly in the wake of the pandemic, they have been enjoying the benefit of a consistently buoyant property market," she said.
"Now it looks like they could be overtaken by inflationary pressures amid the first signs mounting mortgage costs and cost-of-living pressures are finally having some impact on house prices.
"The appetite for change prompted by the pandemic – including gaining more indoor and outdoor space and potentially some accommodation for home working – has been a powerful driver for people to buy a new home. However, there is a limit, and as the pressure on people's finances grows it is going to become increasingly difficult for them to afford to move house."
Reporting by Frank Prenesti at Sharecast.com