OneSavings and Charter Court post Q1 loan book growth ahead of merger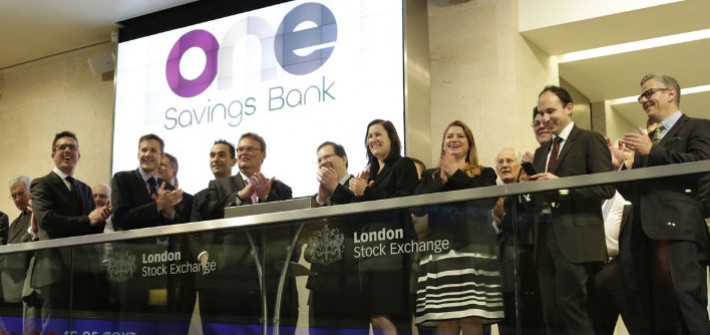 OneSavings Bank and Charter Court Financial Services both posted growth in their loan books for the first quarter on Wednesday ahead of their planned merger.
In an update for the period from 1 January to date, OneSavings said its "strong" financial and operational performance has continued in the first quarter, with loan book growth of 5% for the three months to 31 March 2019.
Net loans and advances grew by £448m during the quarter to £9.4bn and organic originations came in at £799m versus £689m in the first quarter of 2018.
Chief executive officer Andy Golding said he was "delighted" with the performance achieved so far this year.
"Our lending and retail savings franchises remain strong and we have seen a good start to the year, with lending exceeding expectations. I am particularly pleased by the strong growth in our commercial and residential propositions. However it is still early in the year, and given the continued uncertainty surrounding Brexit, there is no change in our outlook for 2019.
"We continue to believe strongly in the rationale for creating a leading specialist lender in the UK through the proposed recommended combination with Charter Court Financial Services Group plc (CCFS)."
Meanwhile, Charter Court Financial Services reported a jump in its first-quarter loan book despite a "challenging" backdrop.
The loan book rose 17.9% year-on-year to £65bn at 31 March, or 28.1% to £7.1bn excluding the impact of structured asset sales in the quarter.
The specialist challenger bank said it saw record first-quarter new loan originations of £710m, up from £668m in Q1 2018, with strong performances across its core buy-to-let, residential and short-term mortgage segments.
Chief executive officer Ian Lonergan said: "I am pleased to report another strong quarter as we continued to deliver on our robust mortgage pipeline to generate record first quarter originations while maintaining high asset quality and strong credit performance. Despite a challenging macroeconomic and market backdrop, the group completed the sale of its residual interest in two securitisations in January for a pre-tax gain of £30m, equivalent to a 5.3% premium on the underlying £564m of mortgage assets.
"Our performance in the first quarter continues to reflect the resilience of our lending operations and demonstrates our ability to structure and execute complex transactions, even in difficult market conditions."
OneSavings agreed back in March to buy Charter Court. Under the terms of the agreement, Charter Court shareholders will received 0.8253 new OneSavings shares for each of their shares.