Ocado soars on back of huge contract with US grocery giant Kruger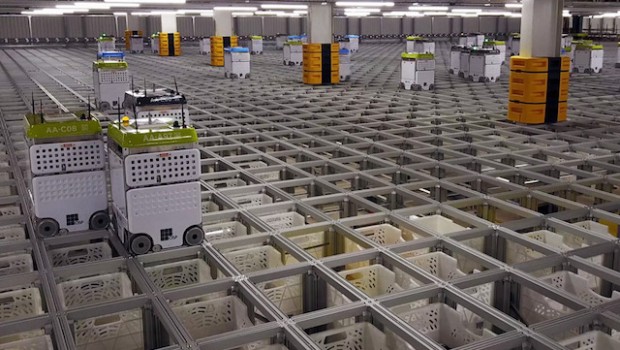 Ocado Group has won a contract with US grocery giant Kroger to exclusively provide its online grocery expertise across up to 20 distribution warehouses across America.
The Kroger Company, which with $122bn of sales last year is one of the world's largest grocery retailers, will buy a 5% stake in the FTSE 250 company as well as paying monthly exclusivity and consultancy fees that Ocado said will "offset in part" the total fees expected to be agreed, while the pair will sign a services agreement including loans to fund the building of "multiple" warehouses across the US.
Another difference from its recent rash of overseas contract wins in Canada, France and Scandinavia, Ocado signed a "partnership agreement" with Kroger, with the final deal not yet signed, with Kroger buying 33m new Ocado shares for £183m.
As it believes Kroger, which operates around 2,800 grocery stores in 35 states across the US, is the grocer "best-positioned to win in US grocery", Ocado said it will discontinue discussions with other US-based retailers.
The pair have already working begun looking for the first three sites to begin development of new robot-run warehouse facilities in the US under Ocado's Smart Platform technology, and will identify up to a total of 20 over the first three years of the agreement. In the event of a failure to commit to the target capacity, Kroger will pay compensation to Ocado.
Ocado said it expects a neutral effect on earnings in the current financial year and expects the structure of the terms with Kroger to be broadly similar per Customer Fulfilment Centres to those agreed for its three recent overseas contracts.
"Ocado and Kroger will, however, explore value neutral alternatives to our normal fee structure to reduce the initial capital requirements for Ocado compensated by an appropriate reduction in ongoing fees."
Ocado chief executive Tim Steiner, for many years lightly mocked by the City for his seemingly unfoundned optimist that a big overseas deal was just around the corner, boasted: "Our success as a retailer shows that we can offer customers unrivalled choice, quality and convenience, efficiently and profitably. The opportunity to partner with Kroger to transform the way in which US customers buy grocery represents a huge opportunity to redefine the grocery experience of Kroger's customers and create value for the stakeholders of both Kroger and Ocado.
"As we work through the terms of the services agreement with Kroger in the coming months, we will be preparing the business for a transformative relationship which will reshape the food retailing industry in the US in the years to come."
Shares in Ocado rocketed up to a new all-time high, soaring 33% to 731.4p in the opening ten minutes on Thursday.
"This is a significant potential deal for which Ocado," said analysts at Shore Capital, noting that Kroger will retain exclusivity in the US conditional on it meeting market share targets or ordering an agreed number of CFCs per annum.
"As ever, with Ocado the devil will be in the detail around: the financial significance of the deal; the capital required to develop the CFCs; the cashflow noting the capitalisation of costs; the materiality of this deal. We also note that in issuing 5% of new equity to Kroger that there will be a further dilution of earnings."
The analysts welcomed the international deals but "continue to question their materiality and when they will make a fundamental difference to both revenues, earnings and what it will do for ROCE".
House broker Numis, which is forecasting pre-tax losses to grow to around £26m and £32m in the current and coming years, said it was a "clearly a transformative deal for Ocado, and one that is on a completely different scale to those announced in the past".
"We have little doubt that an attractive ROIC will be achieved on the huge amount of capital set to be invested across Ocado's global OSP partnerships and, with a significant long-term earnings runway now in place, retain our positive stance."
With so many CFCs to be rolled-out, the purchase of £183m of new shares "will also support Ocado's liquidity position, as will the suggestion in the statement that value-neutral alternatives to the normal fee structure to reduce the initial capital requirements for Ocado will be explored".
Looking further out, Numis expect the initial tranche of 20 CFCs to be "the first of an extended and significant US CFC roll-out".