New stores boost Hotel Chocolat interims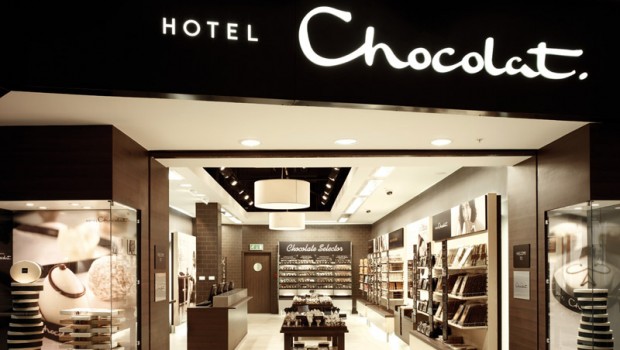 New store openings and international expansion helped Hotel Chocolat report a rise in first half profits, sending the shares higher on Tuesday.
Revenues rose 14% to £91.7m, while underlying core earnings increased 7% to £18.5m and pre-tax profits rose 7% to £14.9m. The interim dividend was unchanged at of 0.6p a share.
The upmarket chocolatier opened nine new UK sites during the half-year taking its total portfolio in its home market to 125 sites.
Chief executive Angus Thirlwell said new store openings contributed three percentage points of the growth in the period, with the remaining balance coming from "existing locations, digital and wholesale channels".
"While our new markets in the US and Japan are still in the early stages of development, consumer response to the brand is encouraging, sales are growing, and we believe we have a deliverable plan to achieve attractive returns," he said.
He added that the company's strong growth came from a wider variety of sales channels than in previous years, which had led to some initial challenges in our supply chain.
"We are now making good progress with investments and upgrades in our supply chain which will fully address these inefficiencies and increase our international and multi-channel supply capability, ensuring we continue to deliver profitable growth."
Thirlwell said that current trading continued to be in line with expectations with the performance of the new locations "encouraging" and a future pipeline of similar potential locations.
He added that the company's 'Velvetiser' home hote chocolate maker loyalty card scheme had both performed well during their second year and offerin "significant future growth potential".
AJ Bell analyst Russ Mould said the results were "a bit of a treat after a day of wider market turmoil".
"Double-digit sales and earnings per share growth suggest the company's investment in bringing out new products and the enduring strength of its brands is being met with a healthy appetite by consumers," he said.
"The company acknowledges it messed up on the supply chain as it dealt with the complexity of selling through an increasing number of different channels – but now seems confident it has fixed this issue. Notably this is a vertically integrated business which grows its own cocoa.
"The development of an in-home hot chocolate system might not sound like something to make a song and dance about but it offers a route to subscriptions as people sign up to receive refills, thereby generating a predictable revenue stream."