National Express shares surge as dividend reinstated, profits rise
Transport operator says Britons turn to buses amid rail strikes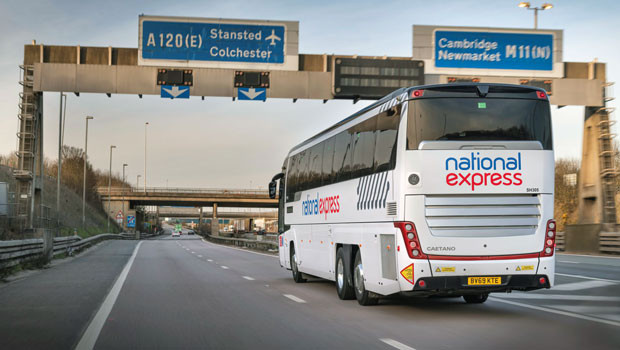 Shares in bus company National Express surged as it reinstated dividends and reported a surge in annual profits, driven by a rise in passengers using its services as a result of UK rail strikes.
The company on Thursday posted underlying pre-tax profit of £146m, up from £39.7m. Shareholders will get 5p a share as a dividend. Group revenue rose by a third to £2.8bn.
Shares in the public transport operator, which slumped during the pandemic as people were forced to work from home during lockdowns, rose 13% as dividend payments were resumed for the first time since 2020 due to a rebound in passenger numbers.
It has also secured increased rates for 2023 and 2024 to recover rising costs.
National Express, which owns and leases buses and trains in 12 countries including North America, Spain and the UK, said sales from UK coaches more than doubled, after more people turned to buses as UK rail workers held strikes over pay amid soaring inflation and the cost of living crisis.
More than 50,000 seats were added across the company's network to prepare for a rise in demand amid the rail disruptions. National Express's own research found that nearly 10% of the people who first used their buses during the strikes were continuing to do so even on non-strike days.
"Whilst the operating backdrop remains challenging, with inflationary pressures continuing in key markets, we expect to see that momentum continue, driven by growth in passenger numbers, mobilisation of new contracts, a continuing recovery in US School Bus and the securing of rate increases during 2023 and 2024 allowing us to recover cost increases," said chief executive Ignacio Garat.
"Our expectations for 2023 are unchanged, and we have clear and robust actions in place to mitigate macro-economic headwinds and to reduce costs if necessary. The continued and expanding demand for public transport over the coming years will bring growth opportunities and our Evolve strategy positions us well to capitalise on them."
Reporting by Frank Prenesti for Sharecast.com