M&S says progress inconsistent as profit falls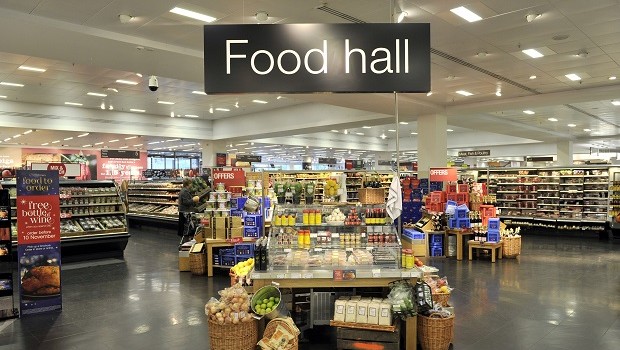 Marks & Spencer's annual profit fell almost 10% as underlying revenue declined across the retail chain's food and clothing and home divisions.
The FTSE 100 company said its transformation programme had been inconsistent and warned that trading was volatile with improvements to performance likely to be weighted towards the second half of the current financial year.
Pre-tax profit before adjustments for the year to the end of March dropped 9.9% to £523.2m, slightly better than expected. Revenue revenue fell 3% to £10.38bn from a year earlier. M&S also announced terms of a rights issue to raise £601.3m to fund its joint venture with Ocado.
Analysts' average forecast for profit before adjustments was £519m. Statutory pre-tax profit rose 26.6% to £84.6m as adjustments fell to £438.6m, including £222.1m for store closures, from £514.1m a year earlier.
UK food revenue fell 0.6% to £5.9bn with like-for-like revenue down 1.5% including Easter. M&S said trading improved in the fourth quarter.
Clothing and home revenue dropped 3.6% to £3.5bn, partly driven by store closures, as like-for-like revenue fell 1.6%. Improved performance in the second half of the year was hit by M&S selling out of popular items.
Led by company veteran Steve Rowe, M&S is trying to overhaul its business to catch up with changes in consumer behaviour and deal with long-running underperformance, especially in clothing and home. Rowe is closing stores and cutting costs while reducing prices. He has also agreed a joint venture with Ocado to get M&S's online business up to scratch.
Rowe said: "We are deep into the first phase of our transformation programme …Whilst there are green shoots, we have not been consistent in our delivery in a number of areas of the business. M&S is changing faster than at any time in my career (with) substantial changes across the business to our processes, ranges and operations and this has constrained this year's performance, particularly in clothing and home."
M&S added: "While we expect some improvement in trading in each of our major businesses in the year ahead, progress is likely to be second half weighted. Trading in the first seven weeks of the financial year is in line with board expectations, although the pattern of trade remains volatile in the context of weather and events."
To fund the Ocado joint venture M&S will issue 325m new shares representing about 20% of its share capital. The one for five rights issue will be priced at 185p a share, a 31.8% discount to the closing price of 271.2p a share on 21 May.