Morrisons to expand online capacity, guarantee staff pay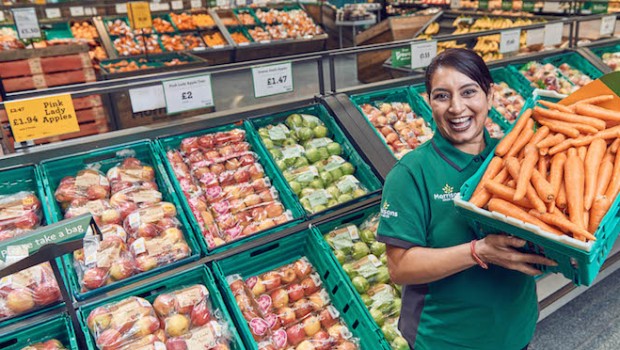 Morrisons said on Wednesday that it was expanding its online delivery service and guaranteeing staff pay as it reported a rise in full-year pre-tax profit and a recent boost from coronavirus stockpiling.
In light of the coronavirus pandemic, the supermarket chain said it was expanding its online store-pick capacity to more than 100 stores in the coming weeks, guaranteeing pay for sick and affected staff and introducing more flexibility around shifts and annual leave. In addition, it will make immediate payments to its small suppliers.
"We are liaising and co-operating with all the relevant authorities to plan for different scenarios," it said. "Our colleagues in stores, offices, manufacturing and distribution are working to ensure the supply chain operates as smoothly as possible and we keep stock on the shelves."
The measures were announced alongside the company's results for the year to 2 February, which showed a 3% rise in profit before tax and exceptionals to £408m and a 43.6% jump in statutory pre-tax profit to £435m. However, total revenue fell 1.1% to £17.5bn, while total revenue excluding fuel was down 0.8%.
Morrisons said that in the first six weeks of 20/21, like-for-like retail sales rose 5% after "considerable stocking up" as "customers plan for the impact of Covid-19".
The retailer said it had been planning to announce another special dividend. However, it has decided to defer the decision "given current unprecedented events around Covid-19".
"This gives us maximum future flexibility around how we prioritise uses of our strong cash flow, and we will keep our capital allocation options under review," it said.
Richard Hunter, head of markets at Interactive Investor, said: "The decision to defer the special dividend is a prudent one, which will allow Morrisons extra flexibility in allocating its cash in these trying times. By the same token, such cautionary moves on company dividends are likely to become more commonplace over the next few months, with little of the negativity which would normally accompany any reduction of any dividend."
Russ Mould, investment director at AJ Bell, said: "Morrisons appears to be having a good crisis so far, responding impressively to the new demands on the business created by the coronavirus and accompanying restrictions on everyday life.
"While there is no hint these measures are being taken for a commercial advantage, people may well remember how it acted when the outbreak is finally contained and this could increase and bolster brand awareness and loyalty."