Moonpig ups full-year guidance on strong demand for gifts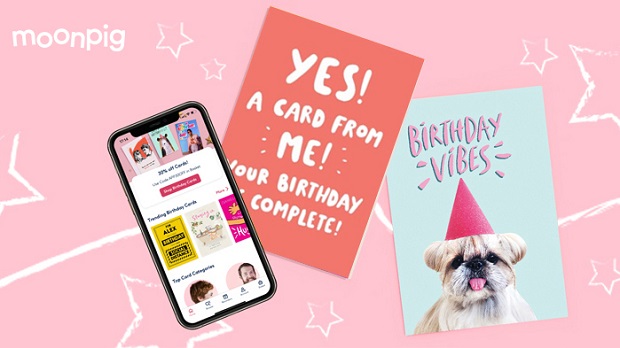 Moonpig Group has upped its full-year revenues guidance, sending the shares higher, despite interim sales coming up against tough lockdown comparatives.
Group revenue at the online card and gift retailer was £142.6m for the six months to 31 October, an 8.5% decline, while adjusted earnings before interest, tax, depreciation and amortisation fell 15.1% to £350m.
Pre-tax profits were down 43.2% at £18.7m.
However, compared to the same period in 2019, revenues were ahead 115% and pre-tax profits 99.7%.
Moonpig has benefited from the spike in demand for online shopping caused by the pandemic. It successfully debuted on the London market earlier this year, and is now expanding beyond its traditional card base into gifting, a core area of growth for the retailer.
It conceded that interim sales had been impacted by "lapping periods of severe Covid-19 related lockdown restrictions" on an annual basis. But it attributed the improved year-on-two-year figure to an increased customer base, higher purchase frequency and growth in gifting.
Frequency has also stabilised at around 5% above pre-Covid levels.
The group, which also owns Dutch online card retailer Greetz, therefore upped its full-year guidance, with annual revenues now likely to come in at the upper end of its previous estimate for between £270m and £285m. This includes £20m of non-recurring revenue, however.
As at 1030 GMT, shares in the group were ahead 5% at 377.2p.
Nickyl Raithatha, chief executive, said: "Moonpig continues to successfully deliver against its strategy to become the ultimate gifting companion. Our new technology and data platform continues to make it easier for customers to remember, find, create and send the perfect greeting card and gift.
"Our half-year results demonstrated even stronger customer retention and our highest ever proportion of revenue from gifting.
"With revenue more than doubling over the past two years, we are confident that we have achieved an enduring transformation in the scale of our business."
Russ Mould, investment director at AJ Bell, said: "Moonpig has confounded critics who said last year's revenue boost was a one-off due to Covid, and that it would struggle going forward. It essentially says there has been a structural shift in how people buy greetings cards, with more people purchasing online, and more frequently.
"Overall revenue is down on the same period last year, which truly was an exceptional time for the business, but on a two-year basis it has made big gains. Strategically everything is falling into place."