Moody's reduces Fresnillo outlook to 'stable'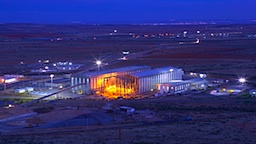 Moody's has reduced its outlook on Fresnillo's debt to 'stable' from 'positive' citing negative free cash flow expectations and the company's exposure to Mexico.
The credit rating agency left its Baa2 ranking unchanged on the precious metals miner despite the weaker outlook. Moody's said Fresnillo has low costs, high margins, low debt, the ability to support production and solid corporate governance.
But Moody's said that Fresnillo, Mexico's biggest gold producer, would be affected by any change in Mexico's regulations or operating environment. The company will have negative cash flow in 2019-20 while funding big capital projects and promising to pay half of net profits in dividends, Moody's added.
Moody's said: "While Fresnillo maintains solid credit metrics, today's rating and outlook action reflects Moody's expectation that free cash flow will remain negative in the next 12-18 months, as Fresnillo continues to have large capital spending that entails some execution risks, and the risks related to the group concentration on one country, Mexico, leaving it fully exposed to any adverse change in the country's regulatory or operating environment."