Metro Bank chairman Vernon Hill steps down with immediate effect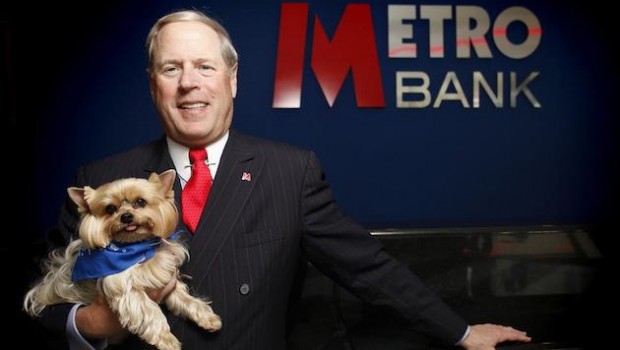 Metro Bank chairman Vernon Hill is stepping down with immediate effect, the company said on Wednesday, having previously announced that he would leave by the end of the year.
The challenger bank has appointed non-executive director Michael Snyder as interim chairman until a permanent successor is found.
Snyder said: "The board thanks Vernon for his vision which inspired and created Metro Bank ten years ago. He leaves a lasting legacy of creating fans through exceptional customer service and has revolutionised British banking."
Hill will stay on as non-executive director until the end of the year. He has agreed to accept an honorary position as "emeritus chairman".
At 1310 BST, the shares were up 1.9% at 196.60p.
Russ Mould, investment director at AJ Bell, said: "Having founded the bank in 2010, Hill had unsurprisingly come under increasing pressure this year after a big accounting error and a failed bond issue. The decision to make him emeritus chairman (a purely honorary role) may be an attempt to salve a bruised ego.
"The company's emphasis on customer service, including offering things like bowls of dog biscuits, extended opening hours, and branches in central locations, helped it stand out.
"And for some customers this was ideal but, for one thing it costs a lot of money and for another, an increasing number of people just want fast convenient online banking.
"The company may have raised funds at the second attempt to shore up its capital position earlier this month but it will be interesting to see if Hill's departure leads to a change of approach for the business going forward."
CMC Markets analyst David Madden said: "19 months ago the share price of the bank was north of 4,000p, while today it is sub-200p. It's a wonder Mr Hill managed to survive this long in his role, but when it comes to the departure, it's better late than never. The group needs to overhaul its senior management to shake-off the immense reputational damage it has endured."
Metro Bank is currently awaiting the outcome of an investigation by financial regulators after it misclassified £900m worth of loans.
It is due to release its third-quarter results after the close.