Marston's to axe 2,150 jobs as fresh restrictions bite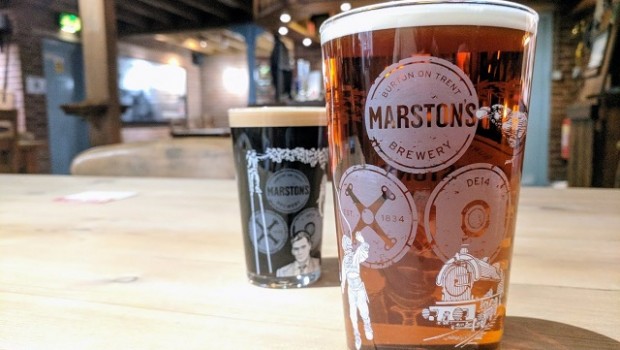 Pub and brewing company Marston's is to axe more than 2,000 jobs after fresh restrictions were announced for the hospitality sector.
Around 10,000 Marston's employees had returned to work after lockdown restrictions were lifted at the start of the summer. As at 4 July, 99% of its pubs had reopened.
But the company said on Thursday that since then, the introduction of fresh restrictions on pubs during the autumn, including a 10pm curfew and table service only, meant it had "reluctantly concluded that around 2,150 pub-based roles currently subject to furlough are going to be impacted".
A full review of overhead costs is also now underway, with results expected by the end of the year.
Chief executive Ralph Findlay called the job losses an "inevitable consequence of the limitations placed upon our business".
"The additional restrictions which have been applied across the UK most recently present significant challenges to us, and will make business more difficult for a period of time.
"There is much uncertainty ahead, the majority of which is outside of our control. Looking beyond the immediate challenges, we look forward to our future as a focused pub operator, returning to growth when trading conditions allow and realising the opportunities which are open to us over the medium to longer term."
Pubs and restaurants were required to close completely from 20 March to 4 July as the government looked to control the Covid-19 pandemic via a nationwide lockdown.
As a result, Marston's said group sales for the 53 weeks to 3 October were down 30% year-on-year to £821m. Total pub sales fell 34% to £515m, while beer company sales were off 22% at £306m. On-trade volumes (excluding lockdown) were down 11% but off-trade rose 23%, driven by "exceptional demand" during lockdown.
In the 13 weeks since the pub estate re-opened on 4 July, managed and franchised pub like-for-like sales were down 10%, with July off 26%, August up 6% - in large part thanks to the Eat Out to Help Out scheme - and in the five weeks to 3 October down 12%.
Greg Johnson, analyst at Shore Capital, said: "As long as pubs remain open, Marston's remains profitable.
"The key takeover [is] that the group remains cash flow positive while pubs remain open, and following the completion of the Carlsberg Marston's Brewing Company joint venture, retains ample liquidity."
Douglas Jack, analyst at Peel Hunt, said: "Like-for-like sales, at -10%, were 7% ahead of the pub sector (-13%) over the last 13 weeks, partly reflecting Marston's community positioning.
"Even under current restrictions, Marston's is trading profitably and paying down debt. Thus we believe it offers limited downside risk, and big upside risk on any news on defeating Covid-19."
Peel Hunt has a 'buy' rating on Marston's, while Shore Capital has the stock 'under review'.
As at 1100 BST, shares in Marston's had slid 7% to 41.65p.